YouTube is popularly known as the largest streaming website on the internet. It offers unlimited videos to stream and most of us use it as a music service because it contains almost all kinds of music. Also, it becomes popular because whether you sign up or not, you can freely access its contents.
Saving music from Youtube is a bit tricky. Not all songs are downloaded because users can set their videos in private. Additionally, Youtube allows downloading for offline streaming within the Youtube platform. In other words, it cannot be stored in local storage. For easy downloading music from Youtube and saving it to your local storage, a third-party tool like VideoPower YELLOW or ZEUS offers its help.
Grab your favorite Youtube videos by using the free trial version below.
The free version of Youtube downloader enables users to download one video/audio at the same time and allows a 1-minute recording duration. To unlock limitations, please upgrade to the full version.
ZEUS can do what the VideoPower YELLOW can do and more with an almost similar interface.
Check out NOW! Start easier with more affordable prices!
One of the best YouTube downloaders is VideoPower YELLOW (will jump to videopower.me). It is a music downloader and recorder with many functions. It contains smart feature that can automatically extract ID3 tags from music, including artist, genre, and album information. It also offers a variety of smart feature such as the ability to directly search music using its search engine.
Method 1: Download YouTube Music
Step 1: Copy The Music URL To Download Music From Youtube
Open your internet browser and find the YouTube site. From the web address in the upper bar, copy the music URL to download.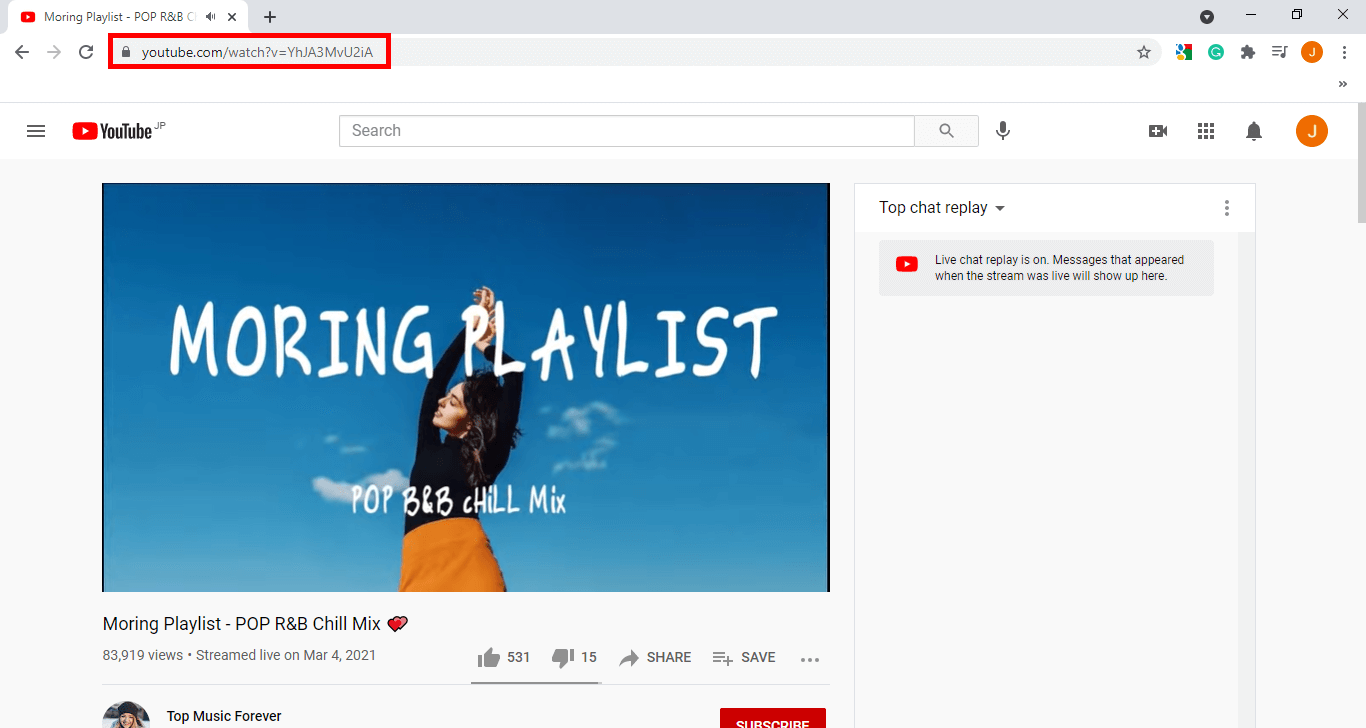 Step 2: Paste The YouTube music URL.
Open VideoPower YELLOW software and go directly to the "Record" menu. Click the "Video to MP3 Converter" button located on the most part of the software. The converter tool opens as a new window then paste the copied URL under the "URL" field box. Then set the format and quality accordingly.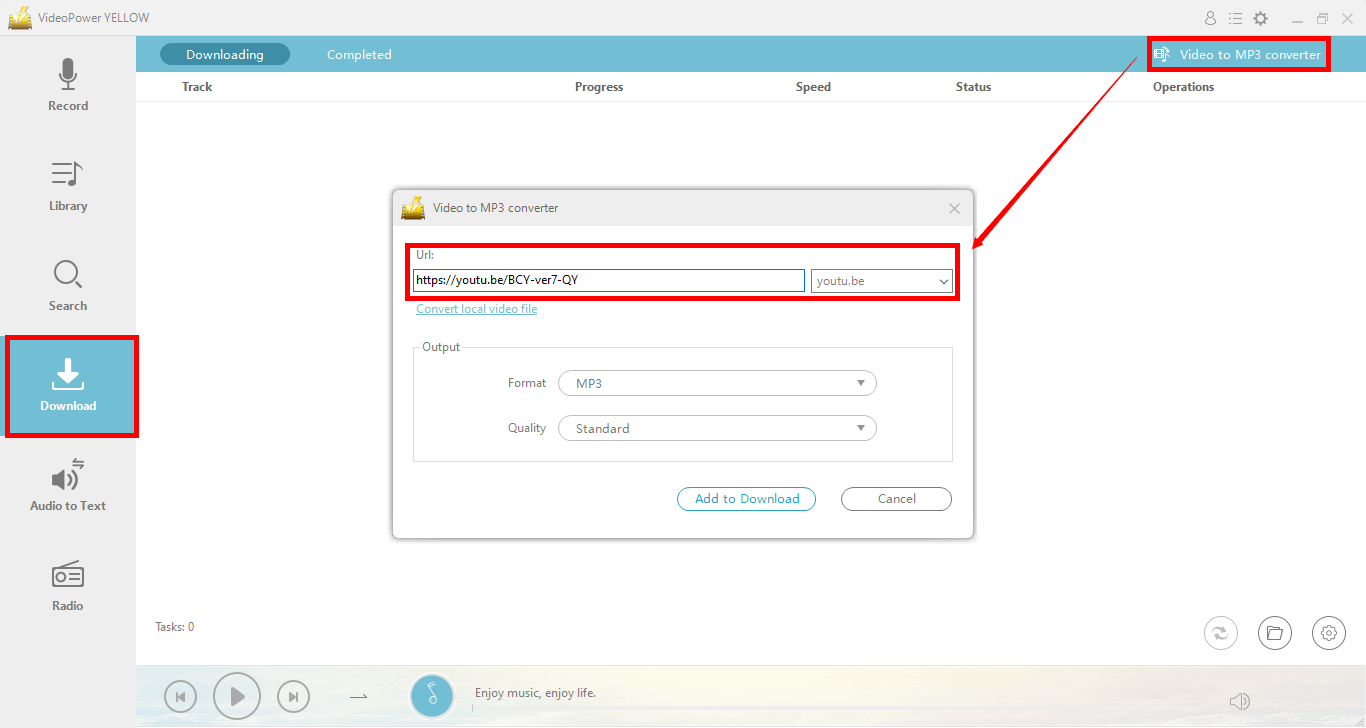 Step 3: Track Youtube Download
The pasted URL will be processed for download that can be tracked under the "Downloading" tab.

Step 4: Review The Music You Download
When this is done, go to the "Completed" tab to see the downloaded music from YouTube. To see other options, you can right-click on the video file.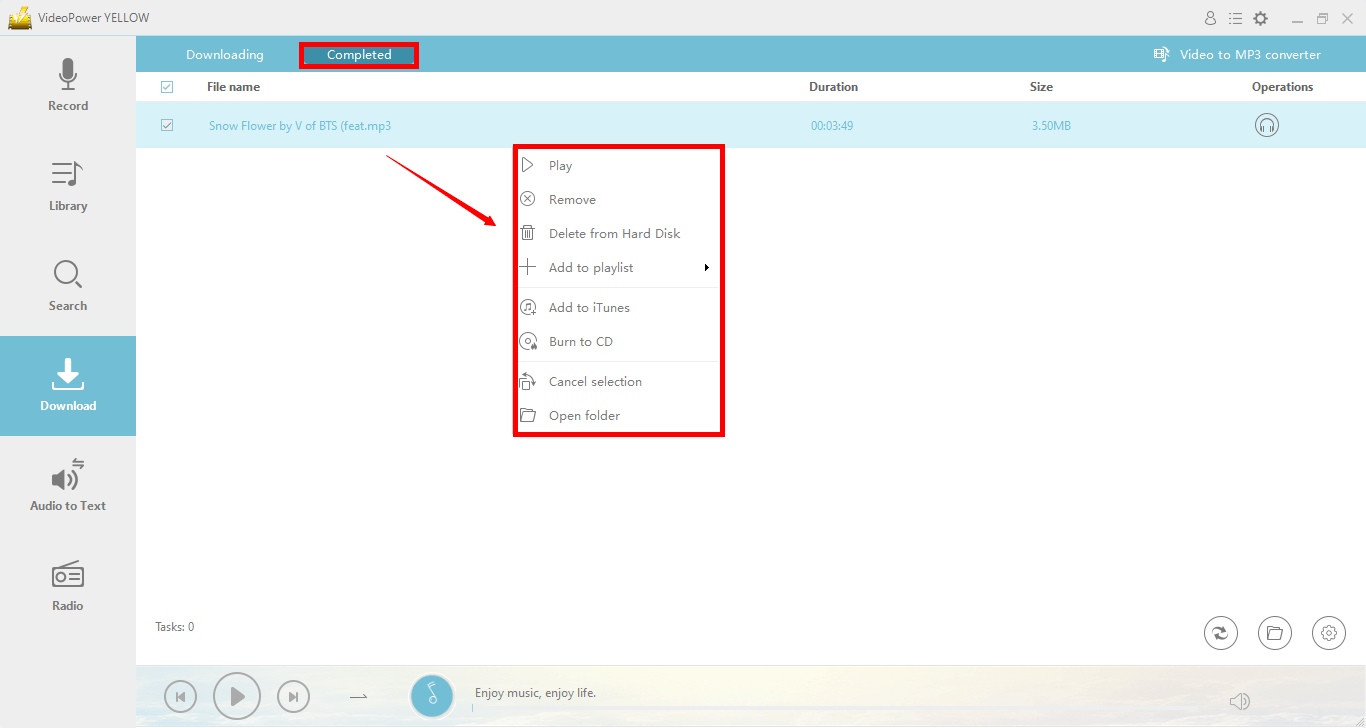 Method 2: Get Youtube Music By Recording
Step 1: Set The Desired Music Recording Output Format
Launch VideoPower YELLOW and continue with the "Record" menu. Below, you'll find the "Format" icon, click it to see all the available audio formats. Then select the appropriate format for your recording.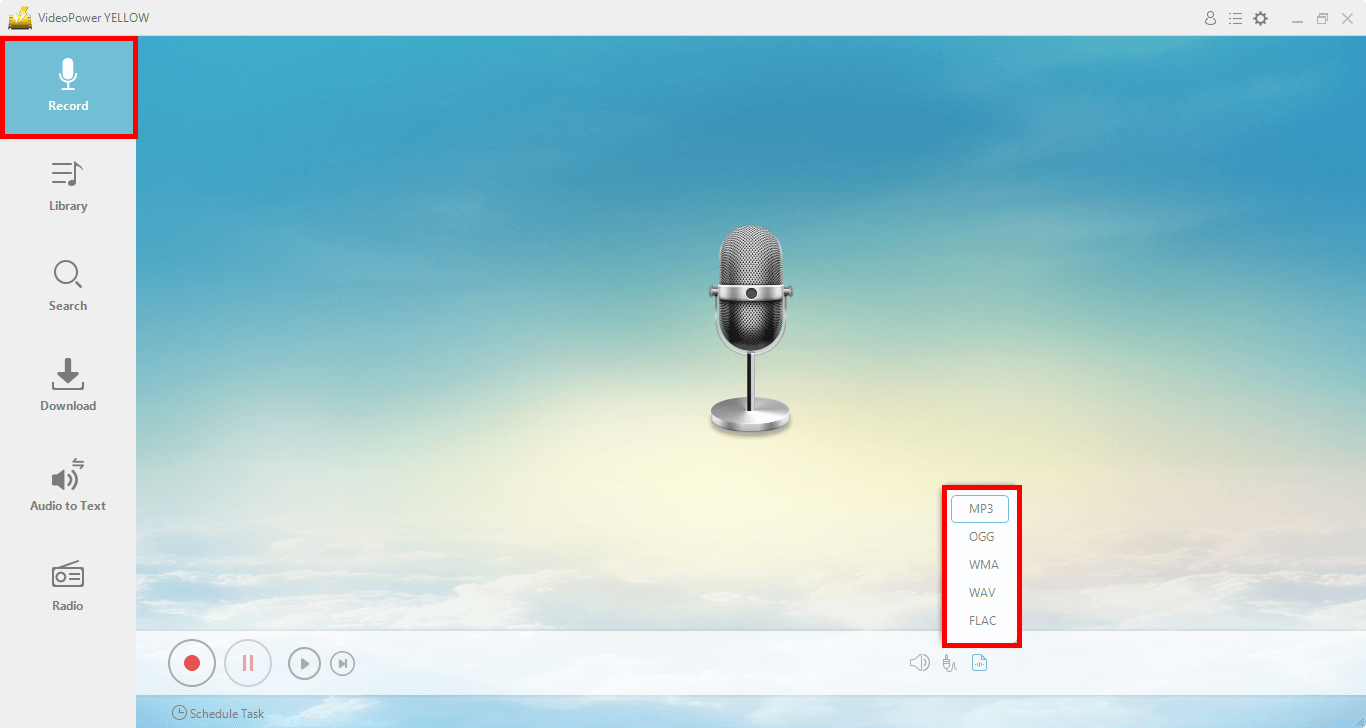 Step 2: System And Microphone Sound Recording (Optional)
VideoPower YELLOW allows overlay of your voice when recording music. To do this, simply click the "Sound" icon below the software then select "Both System Sound and Microphone". If you just want to record music, select "System Sound" only.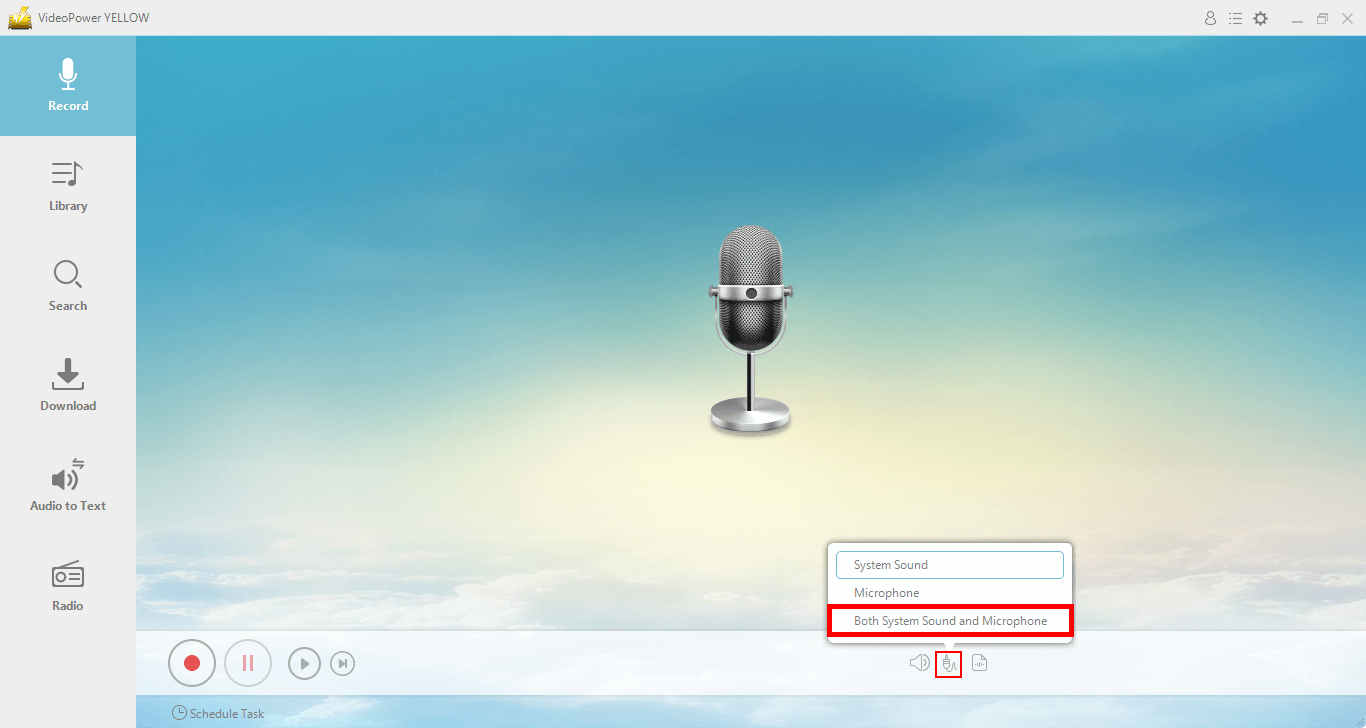 Step 3: Recording Music On YouTube
To start recording music on Youtube, just go to the "Record" menu and find the recording panel control below. Just press the "Record" button to start recording.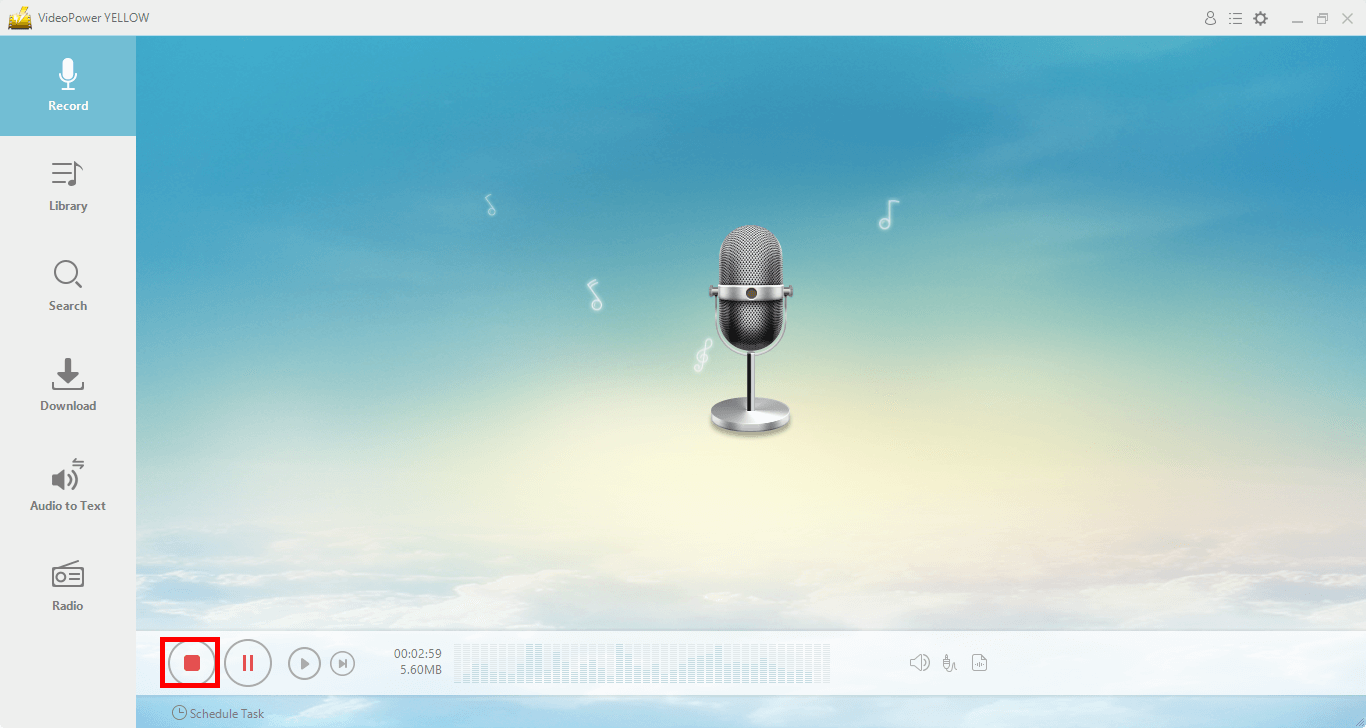 Then open your web browser with your preferred Youtube music to record. Just press the play button to record it. When the recording is done, just go back to the software and press the "Stop" button.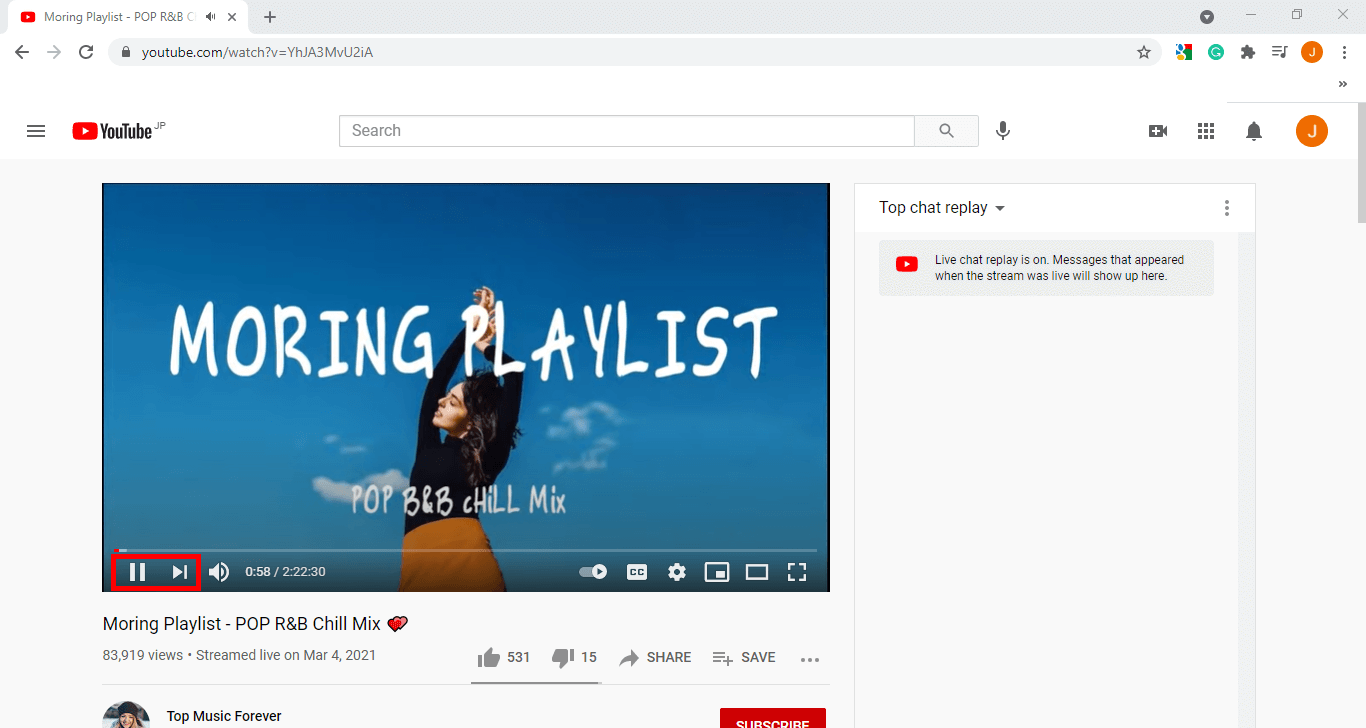 Step 4: Play The Recorded YouTube Video
The recorded files will be added immediately to your "library" when the recording is complete. If the software recognizes the music recorded, the saved file name will be replaced by its original track title. Right-click audio to view additional options, such as playing it, adding it to a playlist, editing it, converting it, using the ID3 tag editor, burning it to the CD, and more pa.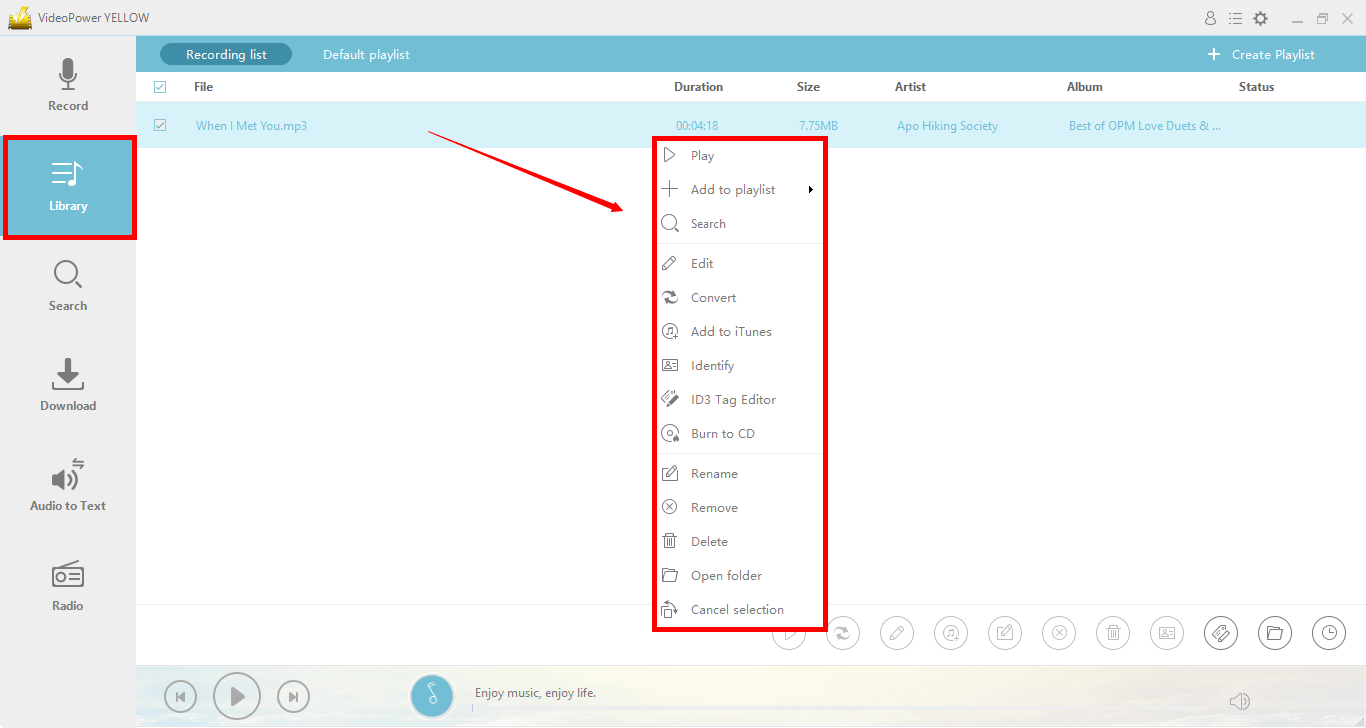 Conclusion
YouTube is one of the best places to stream endless volumes of music from all genres. It has a huge collection of music in its library. It would also be wonderful to download music from YouTube.
To download YouTube songs, you can get professional help from VideoPower YELLOW. It offers great music download solutions from YouTube. With its advanced feature, you can easily and safely download music from its music archives. For direct download, a search engine is also available. By expanding its functionalities, users will enjoy other useful functions such as Conversion tools, basic video editors, CD Ripping, etc.
ZEUS series can do everything that VideoPower YELLOW can do and more, the interface is almost the same.
Check out NOW! Start easier with more affordable prices!