Bandcamp is popularly known as the "hero of the music industry" because it allows artists to upload their own music for free. This music is available online for streaming and albums to buy. This is the most artistic platform you can find online where you can easily promote your music without spending any amount and at the same time sell it. Bandcamp in return will demand a few percent share from total sales. Not bad, is it?
While this platform is useful to new artists with no money for promotion and distribution, it is, however, a small downfall for famous and big artists. Bandcamp lacks some customization options that can be a great help to attract fans or supporters. Its site usually looks the same just different from the background color and album cover. Most artists prefer to have a one-stop-shop where they can offer albums, merchandise sales, press contacts, and other important transactions all in one place.
Aside from the slightest drop, there is still plenty of great music to check out at Bandcamp. To get your favorite music on Bandcamp without buying the entire album, you can choose to use a third-party tool like VideoPower YELLOW or ZEUS that will help easily rip music from Bandcamp.
Download Bandcamp songs using the free trial version below!
The free version of Bandcamp Downloader allows you to download one song at a time and record up to one minute of audio. Upgrade to the full version to remove limitations.
ZEUS can do what the VideoPower YELLOW can do and more with an almost similar interface.
Check out NOW! Start easier with more affordable prices!
VideoPower YELLOW (will jump to videopower.me) is a truly great third-party tool for downloading Bandcamp songs. This program allows you to record audio in MP3 format. It includes a function that automatically extracts ID3 tags from music, including artist, genre, and album information. It offers additional features, such as a search engine that allows you to find music.
Method 1: Search And Download BandCamp Music
Step 1: Download music Through A Search Engine
This Bandcamp downloader has a built-in search engine located under the "Search" menu. Find your favorite song using the built-in browser. The software will then display all relevant music.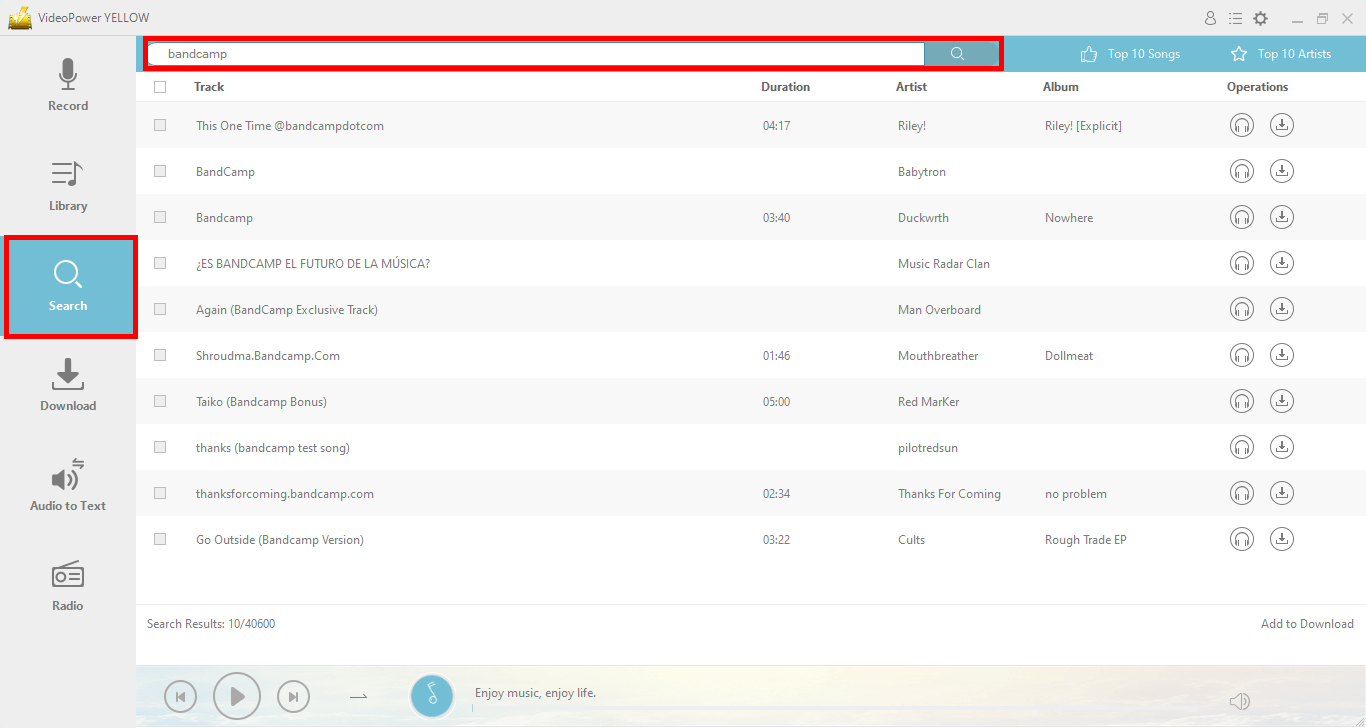 Step 2: Start Downloading Music
When you search for the music you want to download. Click the "Download" icon under operations.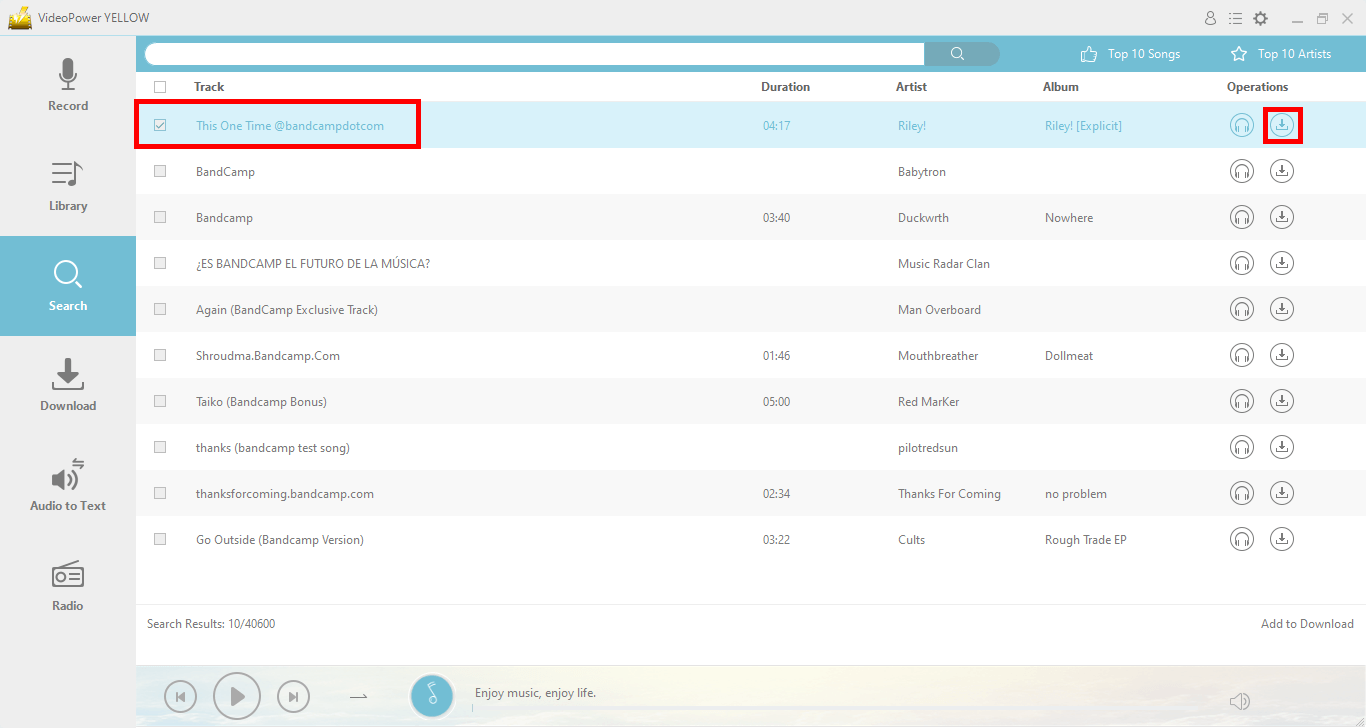 Step 3: Watch The Download Process
The music will then be added to "Downloading". You can watch the download tab under the "Download" tab.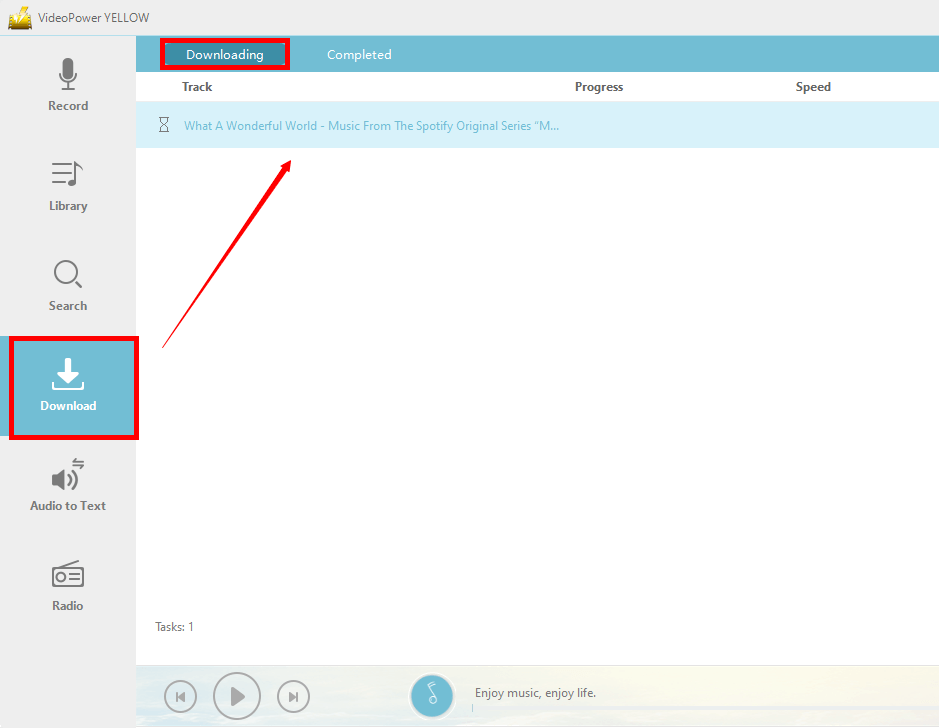 Step 4: Check Downloaded Music
Your completed downloaded music will be stored under the "Completed" tab. Right-click your music file for more options.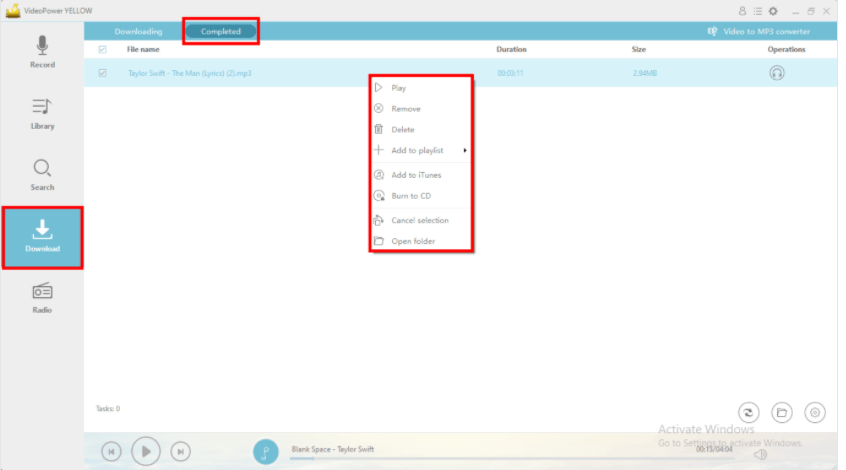 Method 2: Record To Rip Music from BandCamp
Step 1: Change The Format Of Your Recording
Check it out that your music is ready to play for recording. Next, navigate to the recording function by clicking the "record" button. You can select any format you want by clicking the "Format" tab.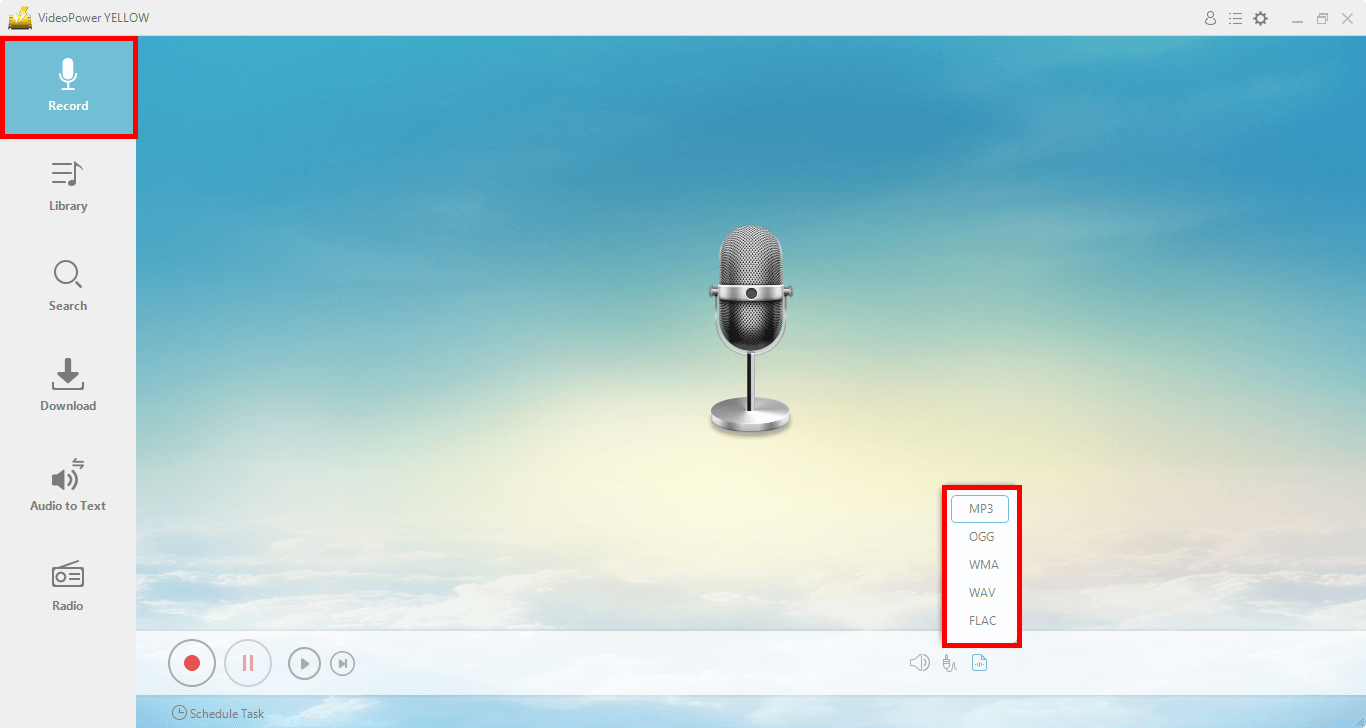 Step 2: Recording Bandcamp Music
To start recording, open the software and press the "Record" button. Then, to record it, open your Bandcamp music and play it.
Once you have completed the recording, return to VideoPower YELLOW software and select the "Stop or Pause" button.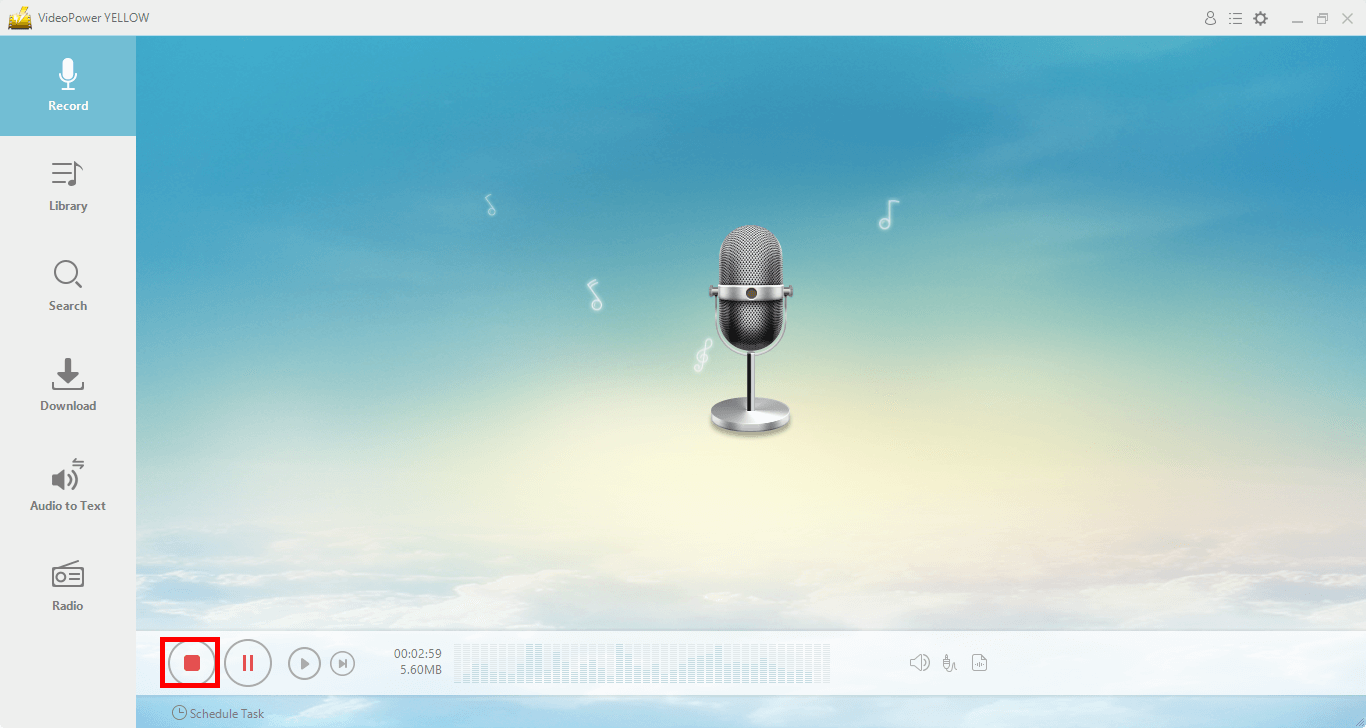 Step 3: Playback The Recorded Bandcamp Song
Your downloaded song will be saved to your "Library."Information from your downloaded music is available and tags are automatically added to recorded music using advanced software features. To see more options, click audio and select play, add to play, and more.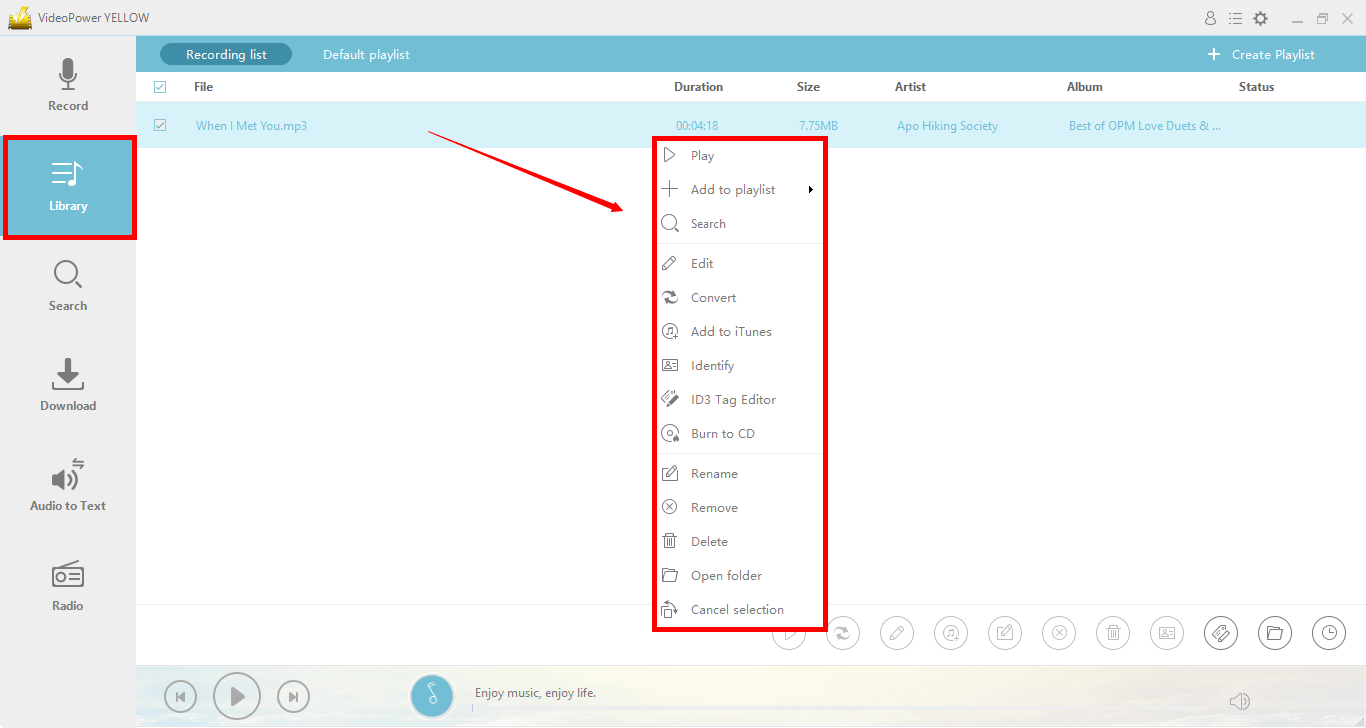 Conclusion
Bandcamp is a website worthy of review, you will find amazing pieces of music from many singers and aspiring artists. However, it focuses on selling music where you have to buy the album to get a hand in it.
If you want to rip music from Bandcamp, using VideoPower YELLOW is useful. It provides the best features for downloading music from Bandcamp. With its search engine, you can easily find your favorite music where you can browse directly through title, artist, album, or genre. Also, you can download music from 1000+ other streaming sites like Songr, Raaga, Beatport, etc. In addition, software functions are not limited to downloading and recording, but may also perform more functions such as additional ID3 tag identifiers, CD recorders, editors, and converters.
ZEUS series can do everything that VideoPower YELLOW can do and more, the interface is almost the same.
Check out NOW! Start easier with more affordable prices!
rip bandcamp rip from bandcamp how to rip music from bandcamp rip music from bandcamp bandcamp rip bandcamp 2021 bandcamp downloader bandcamp music downloader bandcamp album downloader rip audio from bandcamp free online bandcamp music downloader bandcamp playlist downloader download songs from bandcamp bandcamp converter mp3 rip bandcamp to mp3 bandcamp downloader online download from bandcamp to mp3 bandcamp downloader album rip songs from bandcamp bandcamp ダウンロード bandcamp to mp3 converter how to download music from bandcamp bandcamp online downloader bandcamp downloader free download from bandcamp online free bandcamp downloader download bandcamp song online bandcamp downloader bandcampdownloader bandcamp downlaoder download from bandcamp bandcamp ripper reddit bandcamp to mp3 converter online bandcamp download online