Bandcamp is an internet music company that was founded by Oddpost in 2008. They are located in Oakland, California, USA. They allow artists to upload their music, set the price and the modes of payment. Artists may also sell their music on physical media, such as CDs or vinyl, in addition to digital downloads. Even the information of the artists, social media links, and a listing of their available music is accessible here. When the artists sell their music, Bandcamp will have a commission on this. This is not for both sides, right? They will benefit each other and the amazing thing about this site is that, when a pandemic occurs, some of their income is given to charities. This is indeed a website for the healing of nations which is one of their vision and mission.
Despite that, this site doesn't offer a free download. So even though you have a strong internet connection for downloading, it is still useless. But, worry no more, because they allow a third-party tool for Bandcamp playlist downloader to mp3.
With the free trial edition, you can download one song at a time and record up to one minute. Now is the time to get your music! Click it now!
*The functions introduced in this article are available in ZEUS BUNDLE, ZEUS BUNDLE LITE, ZEUS MUSIC and ZEUS MUSIC LITE.
It's time for ZEUS Series to free you from boredom with and download Bandcamp music as much as you want. Its subscription is for long-term use and contains multiple usage options as well as multi-functional music recording and downloading capabilities. It contains a smart feature that extracts ID3 tags from music, such as albums, artists, and other details. It also has advanced features, such as the ability to use its search engine to find music.
Method 1: Copy and paste the song URL to download Bandcamp music
Step 1: Copy the URL of the Bandcamp Music
On your PC, go to the official Bandcamp site to search for your music. Once you find it, highlight the music's URL then copy.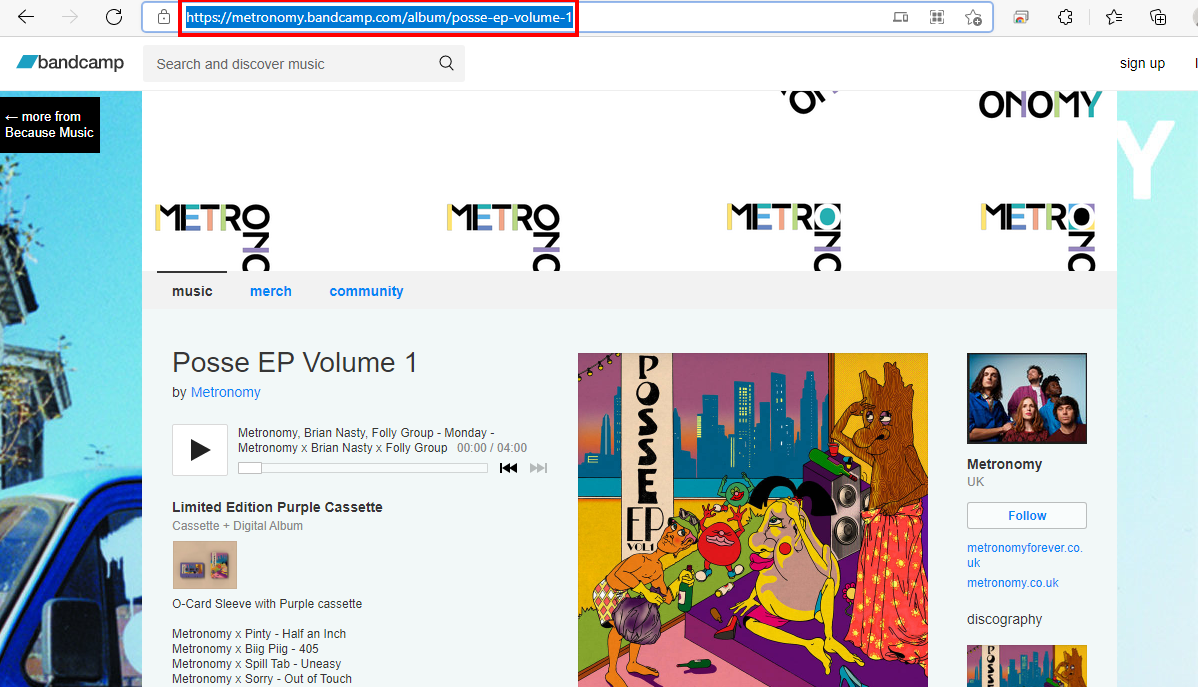 Step 2: Paste the Music's URL to Begin Downloading
Once you copied the music's URL, launch the ZEUS Series application then click the "Download" menu. On the upper left side of the software, click the "+Paste URL" button to begin downloading your music. You can check your downloading video under the "Downloading" tab.

Step 3: Music from Bandcamp was downloaded
When your music is finished, it will be immediately transferred to the "completed" tab. You can access further choices by right-clicking the music download such as Play, Open Folder, Remove, Clear Task List, Rename, Download Log, and +Add to. To watch the video you downloaded, just double-click.
Method 2: Recording Bandcamp Playlist to MP3
Step 1: Open the Music screen
Head over to the software interface to click the "Music" menu. On the software, you will see options such as Record, Library, Search, and Download.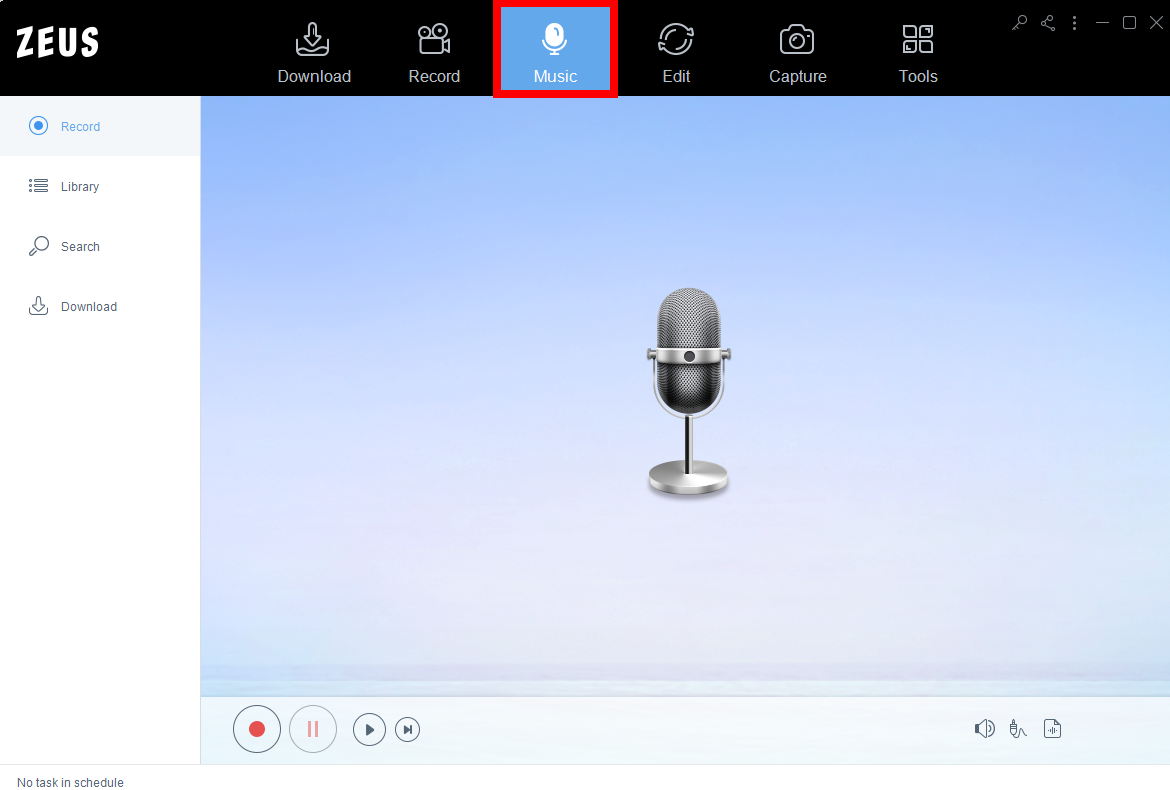 Step 2: Modify the Source of the Sound
Go to the "Record" menu of the software then click the "Record" icon to see various options of sound sources. There are three options for you to choose such as System Sound, Microphone, and Both System Sound and Microphone. For this example, we will use the "System Sound" to record the music we want to record.
Step 3: Set recording format to MP3 Format
Beside the Audio Source, you will see the "Format" icon. Click it to set the recording format to mp3.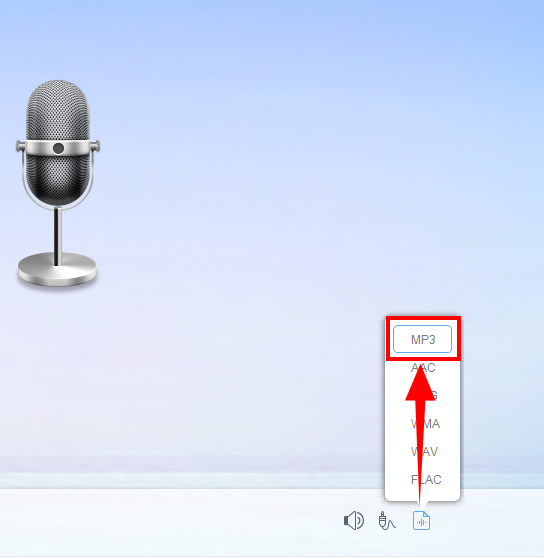 Step 4: Initiate Recording for the Bandcamp Music
To initiate the recording, just click the "Record" button at the bottom part of the screen. Then return to the music site and click the "Play" button.
Then, hurriedly go to the Bandcamp site and play the music you want to record. Go back to the software to click the "Pause" button to halt the recording or "Stop" button to end the recording.
Step 5: Bandcamp Music Recorded Complete
The music you recorded will be put under the "Library" section. Once you double-click the recorded file, it will automatically play. And also, if you right-click you will see more options.
Conclusion
Bandcamp is a great place to go if you're passionate about music. It would be fantastic to be able to download Bandcamp music and listen to it offline.
The ZEUS Series application includes a lot of capabilities that we can use to gain a lot of benefits. One of the biggest advantages is that you can get a Bandcamp playlist downloader mp3 right away. It's a cutting-edge technology that makes downloading from Bandcamp more convenient and secure. You can browse specific music by simply using the search box option. When it comes to recording, you have complete freedom. The software also features ID3 tag identifier, CD burner, editor, and converter functions in addition to downloading and burning.
*The functions introduced in this article are available in ZEUS BUNDLE, ZEUS BUNDLE LITE, ZEUS MUSIC and ZEUS MUSIC LITE. *