Deezer is one of the best music-streaming platforms online, alongside Spotify, YouTube Music, and Apple Music. With a very user-friendly interface and user experience on its app, it's no wonder that millions are subscribing and are currently active listeners to this platform.
Aside from multiple collections of different genres of music, they also have podcasts, radio stations, and other audio-based services on their app. Listeners may have the option to listen to their favorite music while driving, or listen to their podcasts while doing chores at home. Because of this, many people are finding a good or probably the best alternative to download Deezer music to MP3 which they can convert their favorite music on the platform. Now compiling music such as from Deezer is attainable in just a few clicks. No more searching for "Deezer to MP3 online converter" because VideoPower YELLOW or ZEUS got your back for the alternative solution!
Download all your favorite Vevo-certified for offline jamming by downloading the best Deezer to mp3 converter online trial version below!
The free trial version is limited to downloading one video/audio at a time and can record up to 3 minutes. For downloading multiple videos at once and unlimited recording duration, please upgrade to the full version
ZEUS can do what the VideoPower YELLOW can do and more with an almost similar interface.
Check out NOW! Start easier with more affordable prices!
VideoPower YELLOW (will jump to videopower.me) is the best alternative solution for Deezer to MP3 online converter. With an outstanding downloading capability that can download songs from multiple music-streaming platforms, you can also opt to use the software's built-in music search – to download and play offline. It is also available for converting music from Deezer to FLAC!
Deezer to MP3 Online Converter Alternative – Download Your Music
Step 1: Open Deezer App
For the first step, open the Deezer App and find the kind of music you want to download. For this example, we're going to Download Olivia Rodrigo's Driver's License from her album SOUR.
Step 2: Search for music
Launch VideoPower YELLOW and click the SEARCH section. On the search tab, search for the music you want to download.
From the list of results, click the (1) headphone icon to listen first or you can (2) Download straight away by clicking the download button.
Step 3: Download music
Once you find the track you want to download, click the Download button. To see your downloading queue, click the Download section.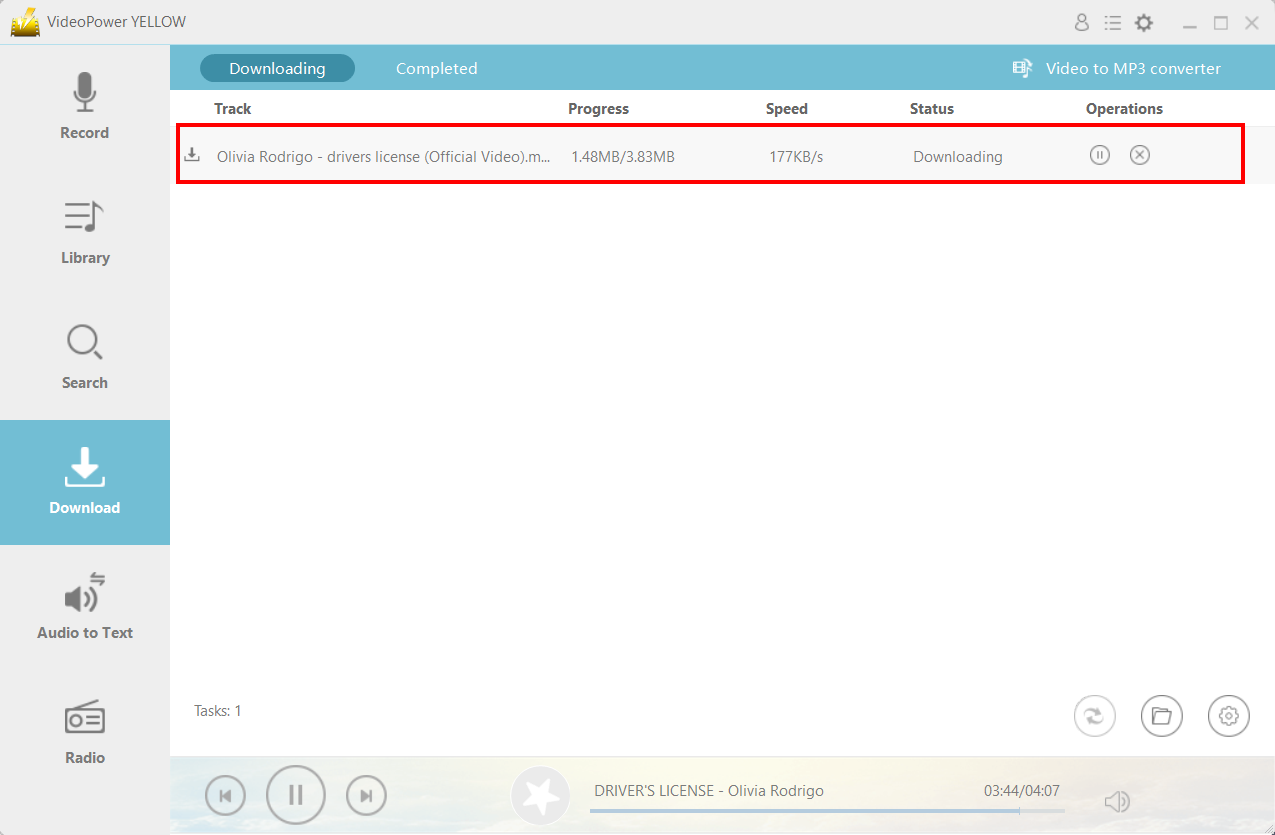 Step 4: Download Complete
After a few seconds, your download is now complete. To look for the file, just click on the Completed tab. You can either double click the file to start autoplay or you can repeat the step above starting from Step 2.
Conclusion
In just 4 simple steps, you can now download your favorite music from Deezer without any additional cost. By using VideoPower YELLOW – Deezer to MP3 online converter alternative you can surely search and download most of the songs from Deezer to listen to or make your personalized playlist for offline jamming. If you want other formats instead, getting a Deezer download FLAC is also available.
With countless songs to download from Deezer, you will never run out of ways to grab your Deezer to mp3 – because by using the software, you'll have the choice to download songs directly from the built-in search bar, or you can find other alternative music-streaming sites to download your music such as YouTube.
ZEUS series can do everything that VideoPower YELLOW can do and more, the interface is almost the same.
Check out NOW! Start easier with more affordable prices!