Our technology is currently evolving rapidly. This includes doing almost everything digitally. A best example of this is the Internet Archive. It is a non-profit online platform that works as a digital library with the stated mission of "universal access to all knowledge". The Internet Archive contains a huge selection of data including free books, movies, software, games, music, websites, digital audio, and more. These content are publicly available for free access. It has a clean and easy-to-use interface and the homepage displays all of its top collections. This way, you can easily navigate to the audio file you are looking for. It's also great todownload from the Internet Archive for offline playback. To do this, a third-party tool such as VideoPower YELLOW or ZEUS will help you.
You may use the Internet Archive downloader's free trial version by clicking the link below!
Using the free trial version, you can download a song and record up to one minute. Now is the time to get your music. Click now!"
ZEUS can do what the VideoPower YELLOW can do and more with an almost similar interface.
Check out NOW! Start easier with more affordable prices!
A widely suggested Internet Archive downloader is VideoPower YELLOW  (will jump to videopower.me). With this downloader, it's simple now to get and download audio from the Internet Archive. This program allows you to save audio in a variety of formats. It includes an innovative functionality that automatically extracts ID3 tags from music, including artist, genre, and album information.
Method 1: Copy And Paste The Song URL
Step 1: Copy The URL
Using your web browser, open the Internet Archive website. Then in the top address bar, highlight to copy its URL .
Step 2: Paste The Copied URL
Select "Video to MP3 Converter" from the "download" software option. When the new window opens, paste the copied music url under the "URL" field box. Then set "Format" to "MP3". If all settings are correct, click the "add to download" button.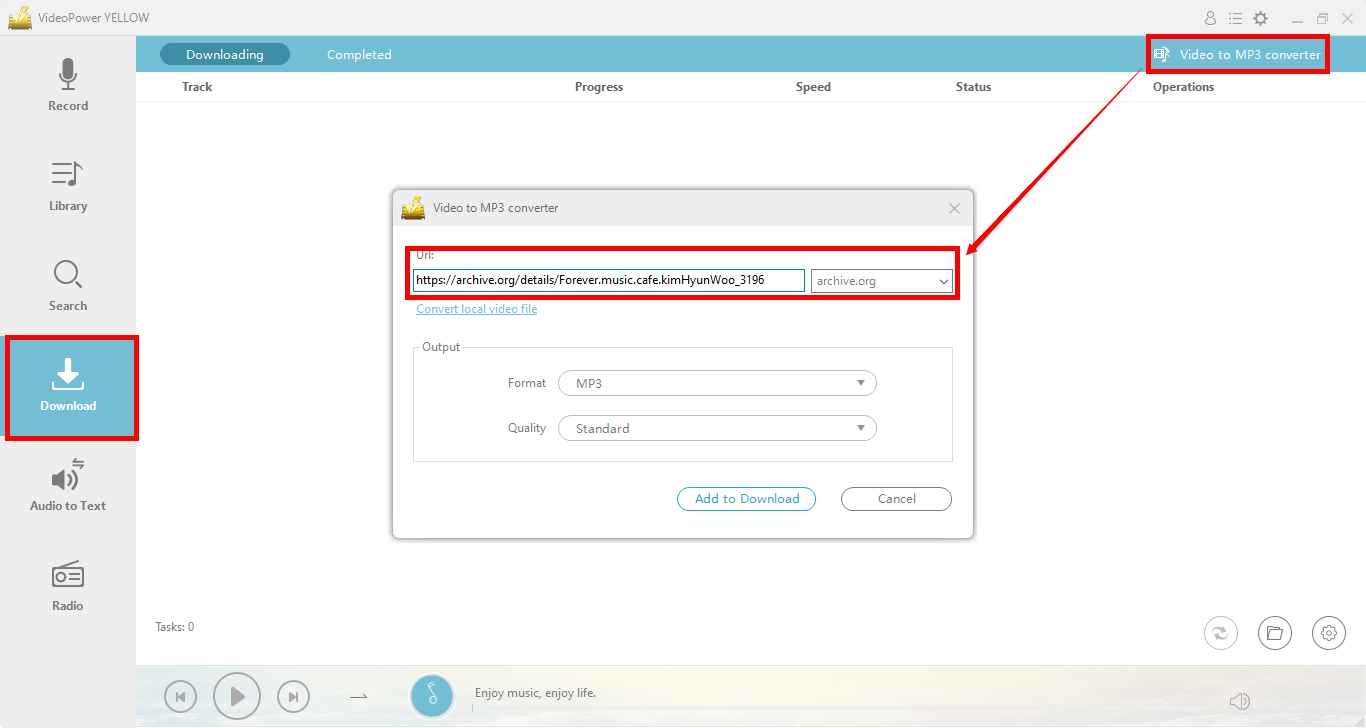 Step 3: Download
After that, your music will appear in the "Downloading" section. In the "download" area, you can check the progress of your music download.

Step 4: MP3 Download Complete
If the download is complete, go to the "Completed" page to check if Internet Archive music is there. By clicking on the video, you can find more options, such as playing, burning the CD, etc.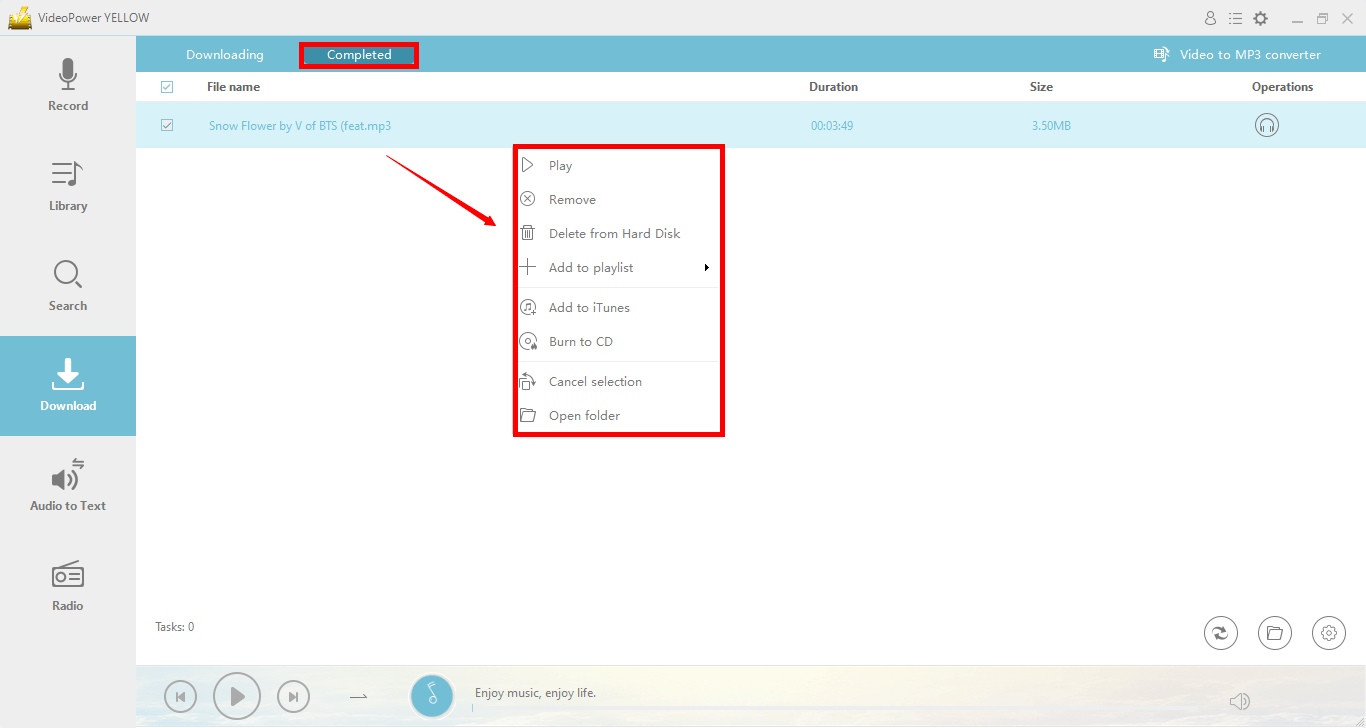 Method 2: Record
Step 1: Select The Recording Format
Be accurate in your file recording format. Double-check your record settings before launching the recording. To specify your format, click the "format" icon then a list of available audio formats will appear, select the appropriate output format to continue recording.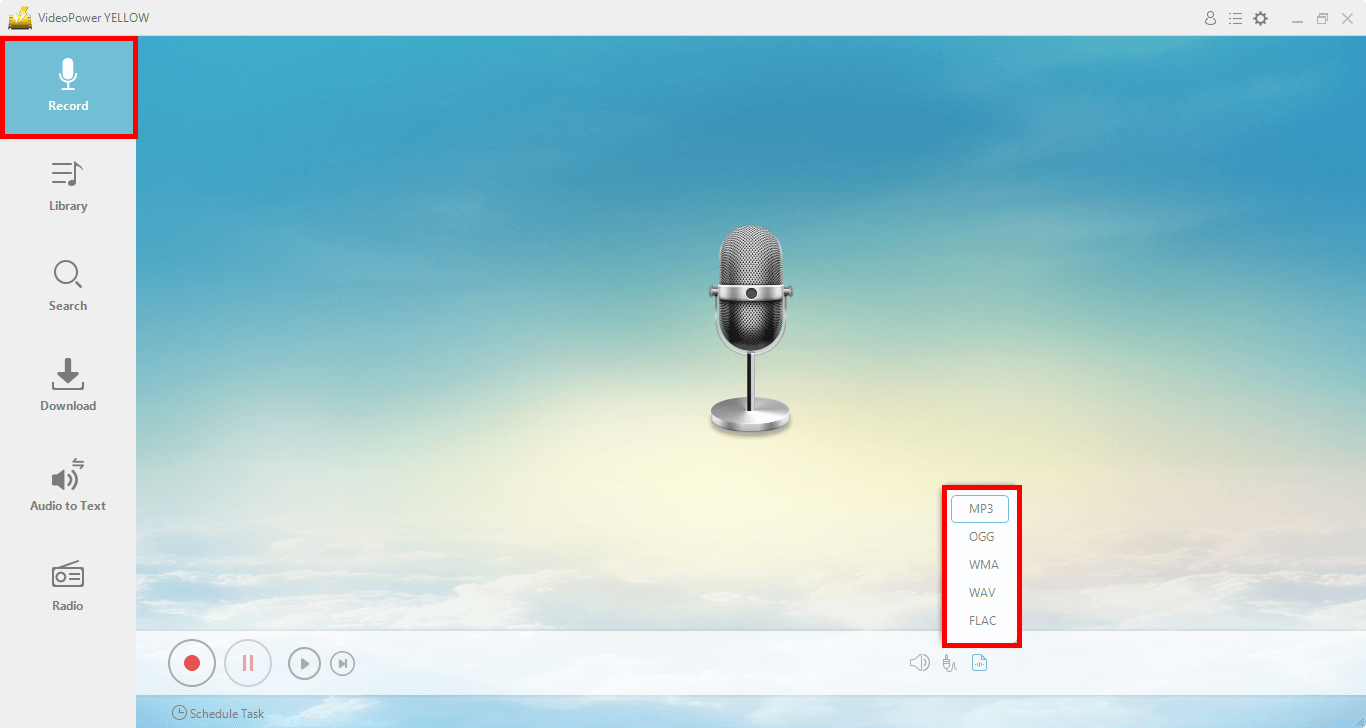 Step 2: Start Audio Recording.
Navigate to VideoPower YELLOW and click the "record" button to start recording.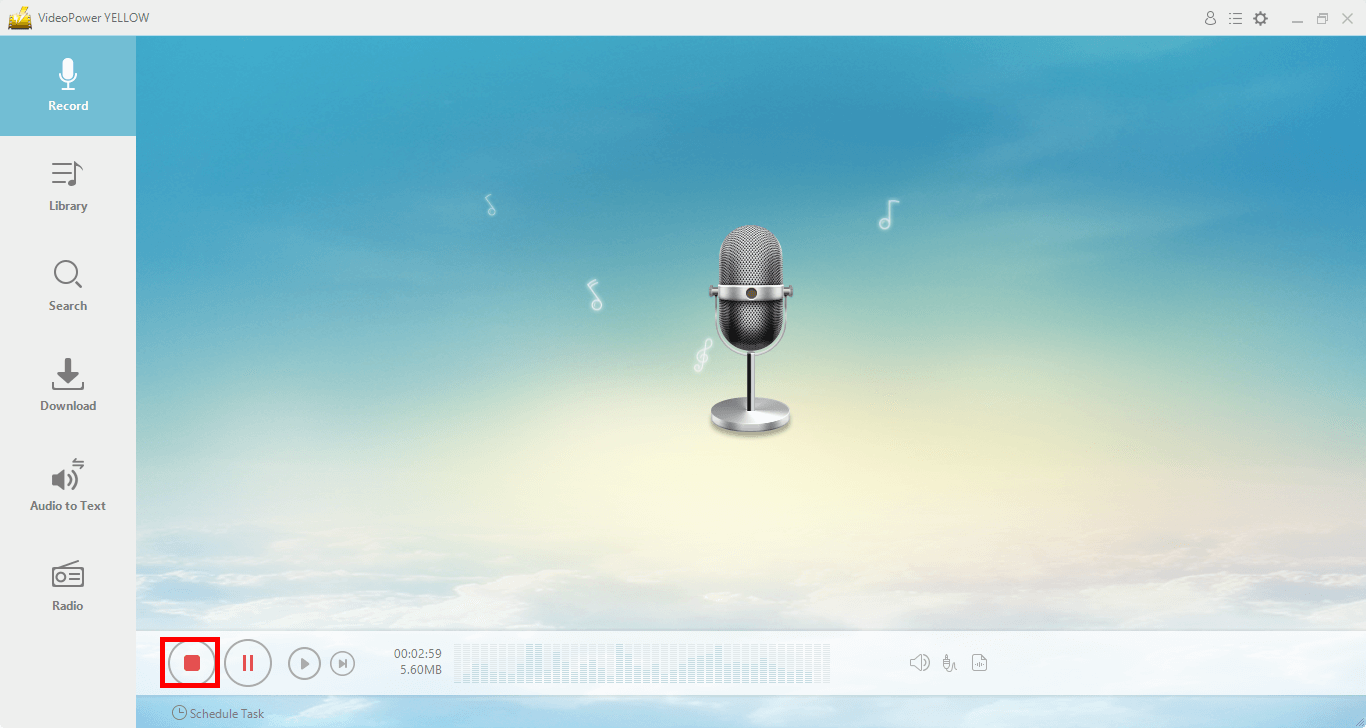 Then go to the Internet Archive website and play the audio to start recording immediately.
Then, when you finish the recording, return to the recording tool and press the "Stop" button to finish the recording.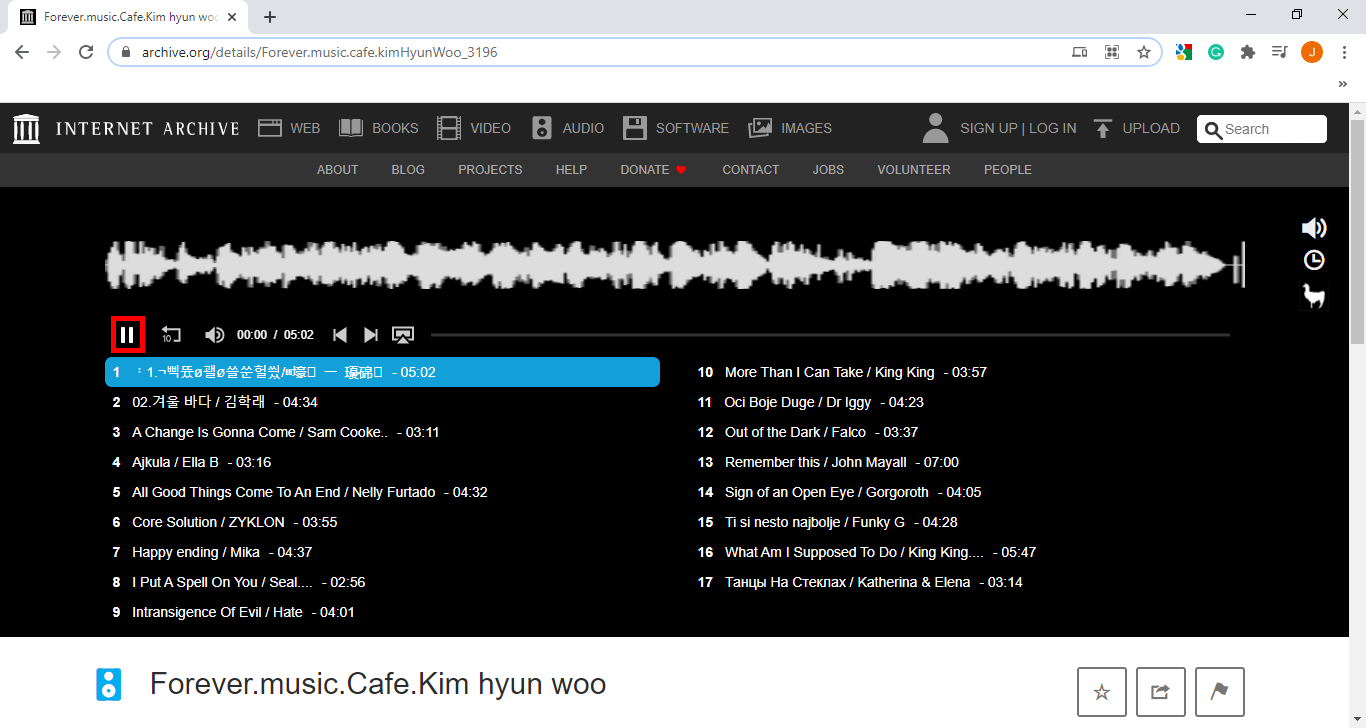 Step 3: Play the Recorded Audio
The music will be kept in your "library". The software has an ID3 tags identifier to get the music information downloaded. It immediately renames the file according to its original track. When you click on the recorded file, you can see different options, such as play, add to playlist, edit, convert, ID3 tag editor, burn to CD, etc.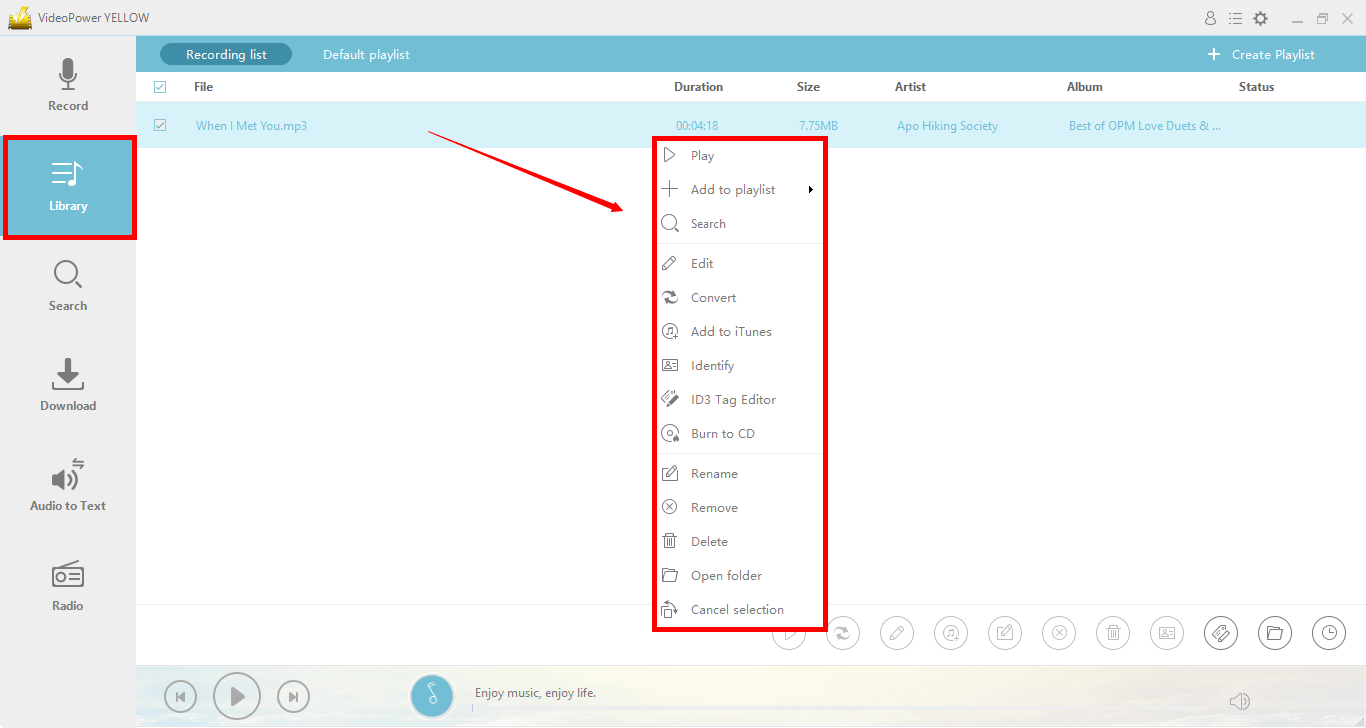 Conclusion
The Internet Archive is a must visit website for audio files of all kinds, including music, radio, audiobooks, and more. Download from the Internet Archive for offline playback will also be amazing.
Internet Archive is truly one-of-a-kind music. VideoPower YELLOW is ready to help download different types of music. It has the most advanced features for downloading music from the Internet Archive. There is also a lot to do with this software, such as downloading music from many types of streaming streaming sites or using other features, such as CD Burner, Editor, Converter, and more!
ZEUS series can do everything that VideoPower YELLOW can do and more, the interface is almost the same.
Check out NOW! Start easier with more affordable prices!
Internet Archive books free download, old time radio free audio download, how to download from Internet Archive, download from Internet Archive, how to download Audio files from Internet Archive