Kpop is a short-term for Korean Pop Music. It is a type of music that originated in South Korea. Which is very popular nowadays, especially with the younger ones. Their music, styles, and genre hook the taste of the individual, and that is the reason why most teens love to sing and dance the kpop songs. The three biggest companies in terms of sales and revenue are SM Entertainment, YG Entertainment, and JYP Entertainment. They are the ones who are responsible for recruiting new idols and even training them.
When you listen to their songs, you will surely get entertained if you want to download kpop music. There are also famous girl and boy groups that have been produced by those entertainments such as BTS, Black Pink, etc. While listening to their music, you may distinguish its uniqueness and the liveliness it gives to every person.
Download and record music by downloading the free trial version of the ZEUS Series down below!
The free trial version is limited to downloading one video/audio at a time and can record up to 3 minutes. For downloading multiple videos at once and unlimited recording duration, please upgrade to the full version
*The functions introduced in this article are available in ZEUS BUNDLE, ZEUS BUNDLE LITE, ZEUS DOWNLOAD, ZEUS DOWNLOAD LITE ZEUS RECORD and ZEUS RECORD LITE. *
If ever you want to download kpop music videos and kpop music albums, you need a tool for it. ZEUS Series is very delightful to help you with that. It is one of the best alternative tools when it comes to downloading.
Method 1: Use Copy and Paste URL to Download Kpop Music Online
Step 1: Copy the URL of the Kpop Music You want to Download
Go to the streaming site using your PC browser and look for the song you want to download. When you've identified the song you want, click to highlight and copy the URL in the top address bar.

Step 2: Paste the Kpop Music's URL
Launch the ZEUS software then paste the URL of the music you copied by clicking the "Paste URL" button. The pasted URL will then be processed for downloading. You can check the progress of your downloading file under the "Downloading" tab.
Step 3: Download Complete
Your downloaded file is now completed. To check the downloaded file, proceed to the "Completed" section. There is an option when you right-click the file.

Method 2: Recording the Download Kpop Music
Step 1: Go to the Music Section
Launch to ZEUS software and click the "Music" tab. You will then see a list of options available.

Step 2: Set sound source
Select "System Sound" from the "picture" icon below to set the appropriate sound source for the recording. By default, the sound source is set to "System Sound" which records the sound coming from your PC.. You can also select from two additional options, such as "Microphone" and "Both System Sound and Microphone." Simply choose what you prefer.
Step 3: Set the Format into "MP3"
To set the format, simply click the "Format" icon at the bottom right of the software interface.

Step 4: Start recording your Kpop Music
To start recording, just click the "Record" button under the "Music" menu screen.

Then go to the streaming site and play the music to have it recorded. Click the "Pause" button in the recording software if necessary or click "Stop" to end the recording.

Step 5: Listen to your Recorded Music
You can find your recorded music under your "library". And, thanks to the software's unique feature, it will automatically identify the information from your recorded music and rename the file according to its original track. Right-click the file to view other options, such as Play, Edit, ID3 Identify, Burn to CD, and so on.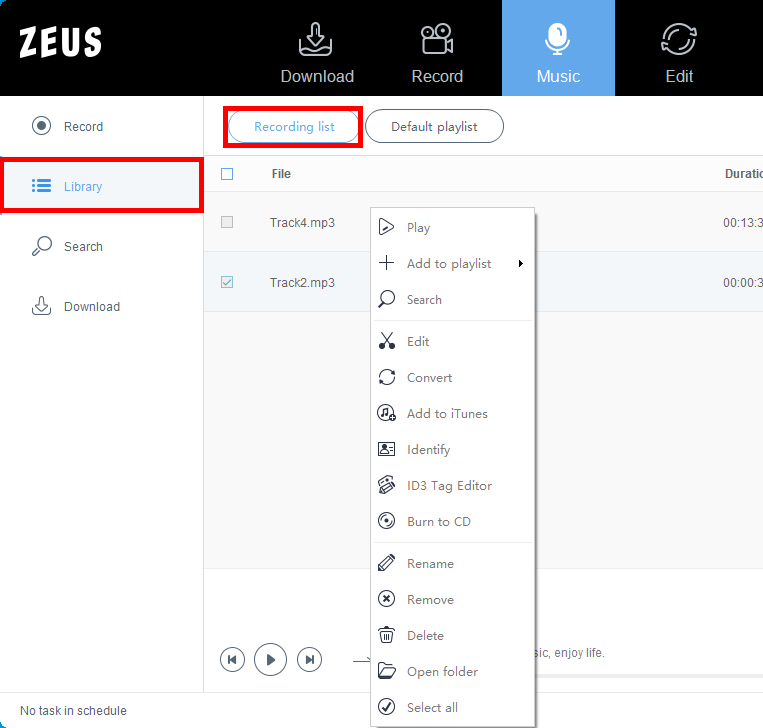 Conclusion
As you can see, Kpop is quite popular, and it's just going to get more popular. If you've never heard Kpop before, you should start listening to their tracks and download Kpop music right away. You'll almost certainly enjoy Kpop, and you'll immediately see why it's so popular.
ZEUS Series will save you when you want to download Kpop music m4a and download Kpop music 320 kbps. It can hold a number of audio file formats on many devices. It also offers a search engine that makes it simple to locate your music. This software features an ID3 Tag Identifier, CD Burner, Editor, and Converter in addition to downloading and recording.
*The functions introduced in this article are available in ZEUS BUNDLE, ZEUS BUNDLE LITE, ZEUS DOWNLOAD, ZEUS DOWNLOAD LITE ZEUS RECORD and ZEUS RECORD LITE. *