If you're the type to download your favorite VEVO-certified music from YouTube or on any online video-streaming website, then you're also probably the type to create a customized playlist for your offline jamming. With the music industry's current changing taste, stay on top of the hottest and trending music out there by jamming to VEVO music!
But for music-lovers who don't know what VEVO is, it means Video Evolution, which is one of the largest multinational video hosting services that provides quality music videos on YouTube. With countless Vevo-certified music videos available on YouTube, you can easily customize and make your own offline playlist by using the best VEVO downloader out there with tools like VideoPower YELLOW or ZEUS. These software also boasts its downloading quality – which ensures the very best quality for your offline music Jamming! No more hassle searching for other Vevo downloaders for pc or even Vevo video downloader app.
ZEUS can do what the VideoPower YELLOW can do and more with an almost similar interface.
Check out NOW! Start easier with more affordable prices!
With VideoPower YELLOW (will jump to videopower.me) you can easily download your favorite Vevo-certified music videos offline so you can manage and create your own playlist – which you can play offline!
VEVO Downloader Alternative – Download Music
Step 1: Go to YouTube
First thing is to create what kind of playlist you want to make. Is it pop? Is it sweet ballad music? Is it for the broken-hearted, or do you just want a playlist to dance? No matter what kind of music you like, YouTube is the best source for this.
Open your browser and go to www.youtube.com and search for your favorite music!
When you're on the homepage of YouTube, simply search for your favorite song or artists. For this example, we're going to use Olivia Rodrigo's good 4 u. After this, just copy the URL from the top search bar of your browser.
Step 3: Launch VideoPower YELLOW
To start, launch VideoPower YELLOW and click the (1) Download Tab. On the top right corner, click (2) Video To Mp3 Converter and (3) Paste the URL from the URL tab. Make sure that you choose the highest quality download and the audio format you want. When everything is set, simply click (4) the Add to Download button.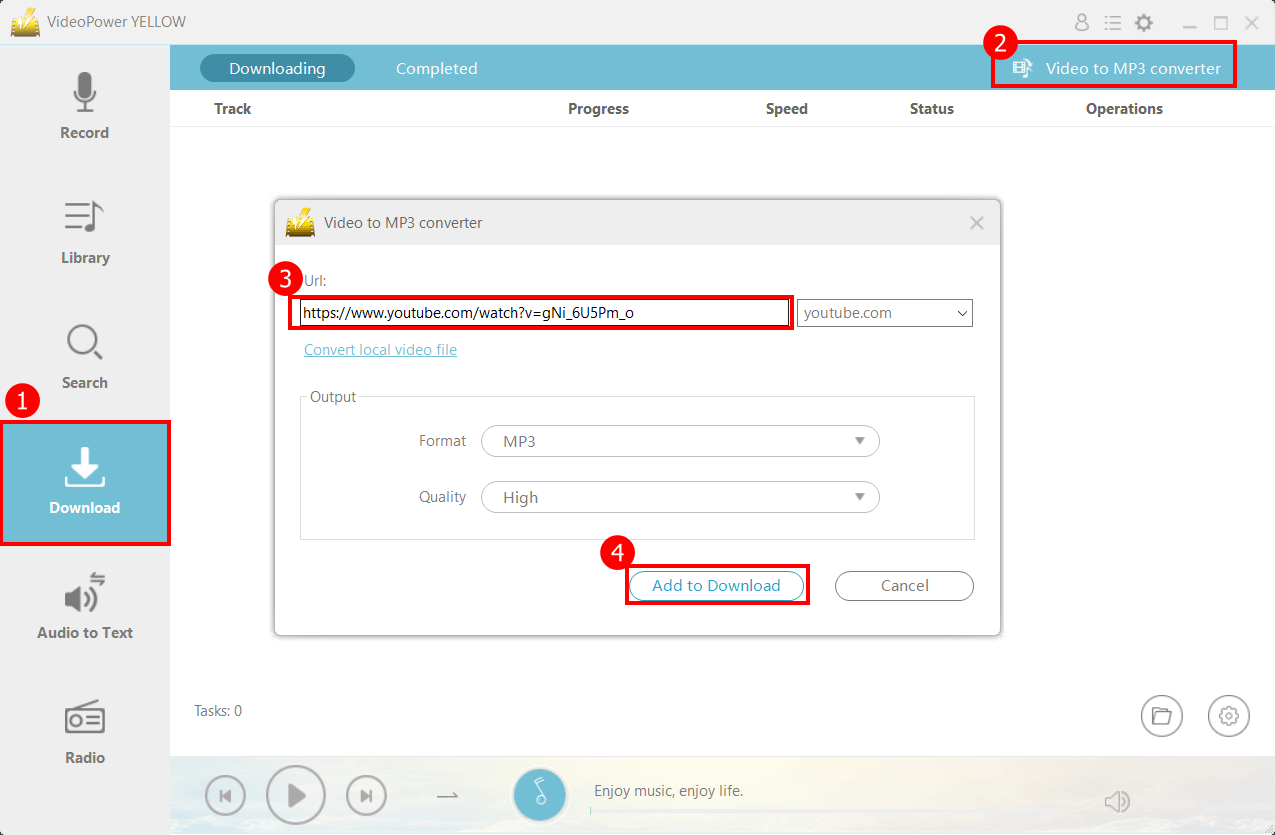 Step 4: Download in Progress
After Clicking Add To Download, you're going to the recording library which begins momentarily. While waiting you can also search for other music to download.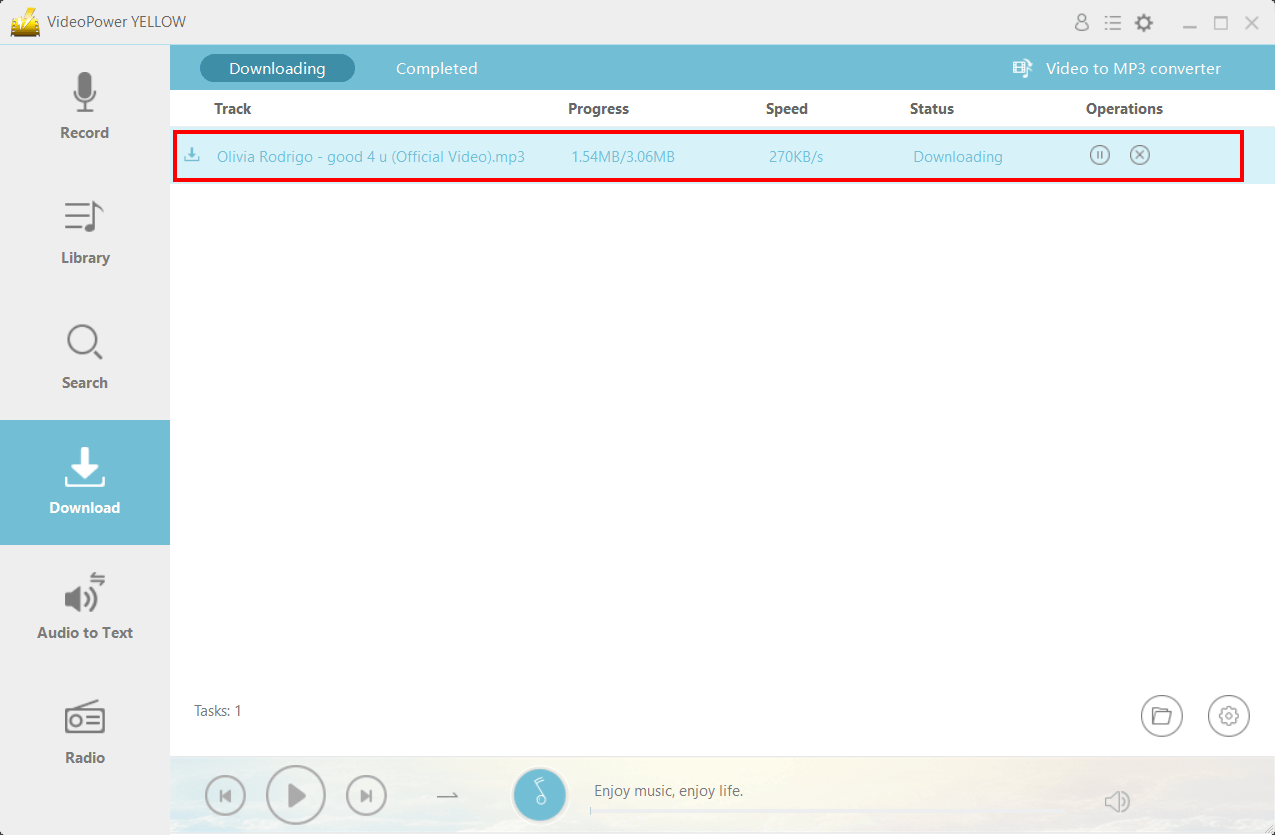 Step 5: Download Complete
When downloading is done, head to the Completed Tab on the top corner of the product screen. (1) Double-click to play the downloaded music. You can also (2) open-folder by clicking the folder icon on the lower right side.
When the download is done. You can download more music by following the steps above. Copy the whole downloaded music and store it on your local devices for offline listening.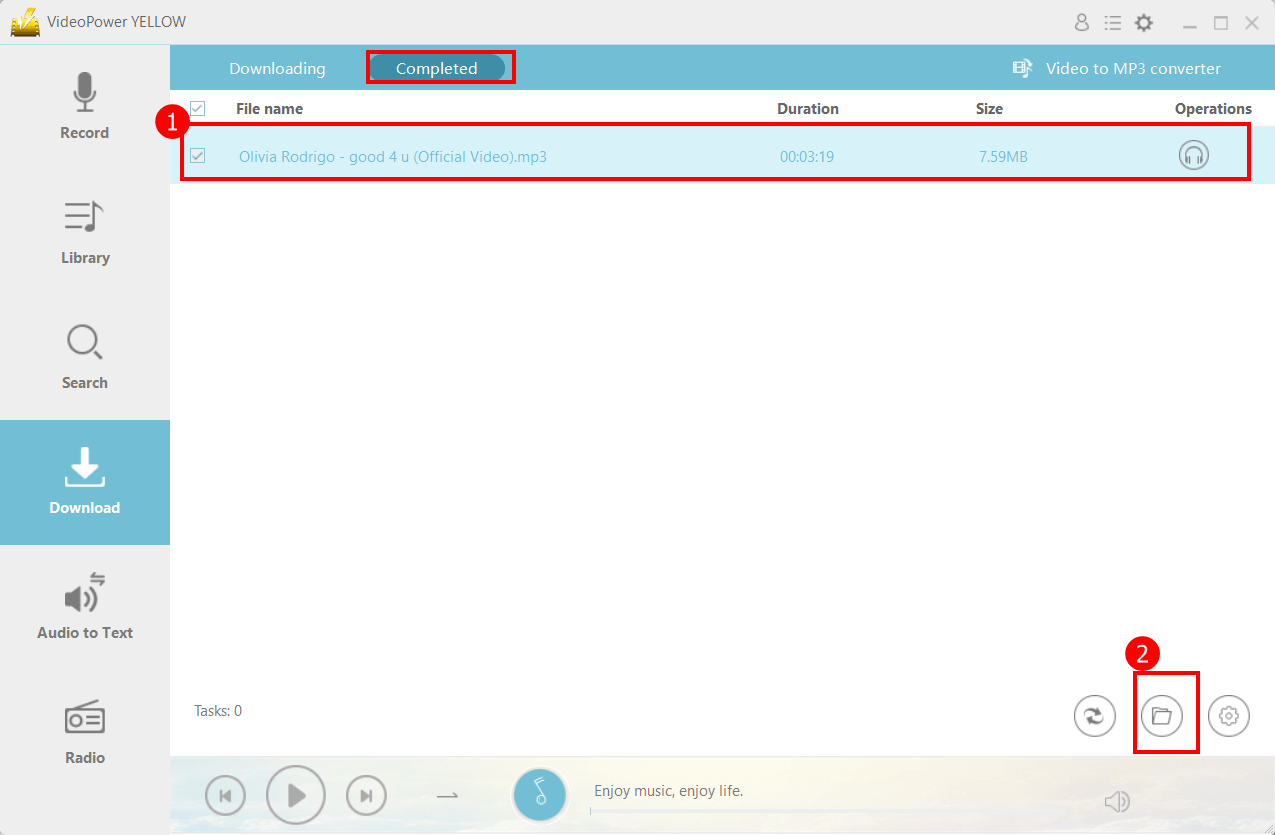 Conclusion
Even though there are countless music-streaming apps on devices and on computers, sometimes people really wanted to opt for a much cheaper alternative to download their favorite music without having to pay for a monthly subscription, so they search for the best vevo downloader.
With VideoPower YELLOW you can easily download lots of your favorite music from YouTube and other music-streaming sites. As easy as copying the URL, no one will be confused or will have a hard time navigating through the software.
More than the downloading features, VideoPower YELLOW also boasts some great features such as music recording while gathering all the necessary information from the music such as the artist's name, album, and album cover.
ZEUS series can do everything that VideoPower YELLOW can do and more, the interface is almost the same.
Check out NOW! Start easier with more affordable prices!