What is impressive about SoundCloud is its influence on music enthusiast users who love to upload their own version music collections. This includes their original compositions, mixes, and even the karaoke version.
Many users are looking for great karaoke mixes that could perfectly match their singing style and showcase their talent for singing. It is either for a singing career or just for a pastime. Whichever it may be, finding plenty of it in SoundCloud is really helpful. Having a SoundCloud recorder that can record SoundCloud music with your voice singing and with a Karaoke music background from SoundCloud would be fun and exciting.
Download the free trial version below to start grabbing your favorite SoundCloud music!
With the Free version of the SoundCloud screen recorder, you can record video with 3 minutes limit and a watermark. For unlimited and no watermark SoundCloud screen recording, please upgrade to the full version
This is where VideoPower GREEN (will jump to videopower.me) can help and jive along with you. It spectacularly works as a SoundCloud recorder and SoundCloud voice recorder which records your voice with Karaoke music from SoundCloud.
How to Use Soundcloud Recorder 
Step 1: Set the Audio Input of SoundCloud Recorder
Launch the VideoPower GREEN and set the audio input by clicking the "Audio Input" menu. A list of recording format options will show, then select the "System Sound".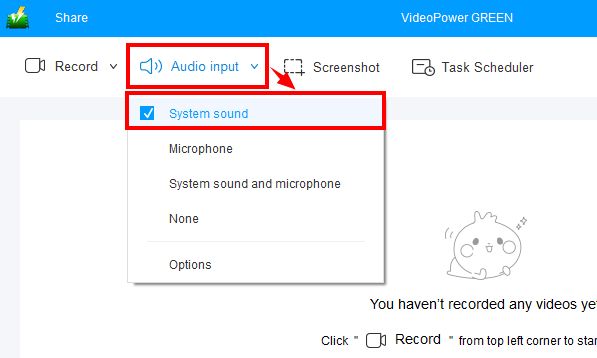 Step 2: Choose the recording mode of SoundCloud Recorder
To start the recording, just click the "Record" button and select the recording mode by clicking the "Record dropdown" button. Since we are recording music from SoundCloud, select the "Audio" as the recording mode. Once a recording mode is selected, a countdown will automatically start.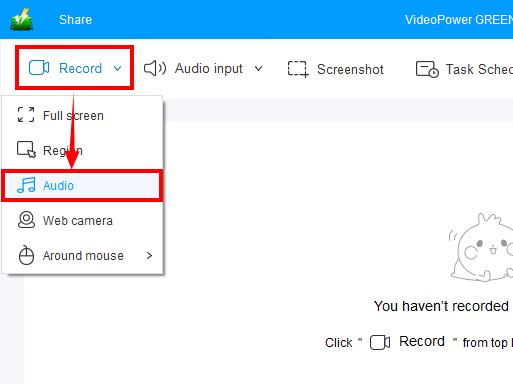 Step 3: Start recording the music using the SoundCloud recorder
Open the music you want to record from SoundCloud. After the countdown, a small box of recording options will pop up. Click pause or stop if necessary.

Step 4: Open the recorded SoundCloud music
Once the recording is done, the recorded file will automatically be added to your record list. Right-click the downloaded music to see more options available such as Preview, Edit, Upload to different streaming sites, Deselect all, Delete, Rename, or Open the folder.
Conclusion
There are plenty of benefits that you can get from singing Karaoke like it helps relieve stress. No one can't deny that it is the best form to relieve stress that helps show and express your emotions through singing.
For professional use, this is also the best method to showcase your talent. And of course, the best destination to find great Karaoke mixes is SoundCloud.
With the help of VideoPower GREEN which is a SoundCloud recorder, recording SoundCloud music with your voice and background Karaoke music from SoundCloud becomes easy. It offers the best SoundCloud recording tool with advanced features for easy recording. Moreover, the software doesn't limit its functions to recording but can also do more through its added features such as the Task Scheduler and basic video editing.