Pandora is the largest music streaming provider that is specifically popular in the U.S. It is a site where you can listen to thousands of high-quality music with approximately 70 million users every month. It enables users to build their own stations and use the thumbs up or thumbs down buttons to rate the music. This way, it will be easy to determine the most popular music and the least popular music subscription. Unfortunately, Pandora is not accessible in other countries therefore a VPN is needed for users residing in restricted countries.
So, for you to enjoy the music from Pandora offline, you need an alternative solution like music recording. In this way, you can still grab and download Pandora music for offline playback. Tools like VideoPower YELLOW or ZEUS will help.
To download Pandora songs for free, click the icon below.
With the free trial version, you could only download one Pandora song at a time and record for one minute. Upgrade to the full version for unrestricted access to all features.
ZEUS can do what the VideoPower YELLOW can do and more with an almost similar interface.
Check out NOW! Start easier with more affordable prices!
VideoPower YELLOW (will jump to videopower.me) is the right tool to use for Pandora Music recording. It might be a multi-purpose music downloader and audio recorder that makes downloading Pandora music quick and easy. It has a unique function that removes ID3 tags from music, including artist data, genre, and collection. It also contains a search box tool that allows you to do direct music browsing.
Record Your Favorite Pandora Music
Step 1: Set the Format for Recording
Launch VideoPower YELLOW and set first the recording format before you begin with the recording. To do this, just click the "Format" icon at the bottom of the "record" menu screen. A list of supported formats will dropdown for your selection.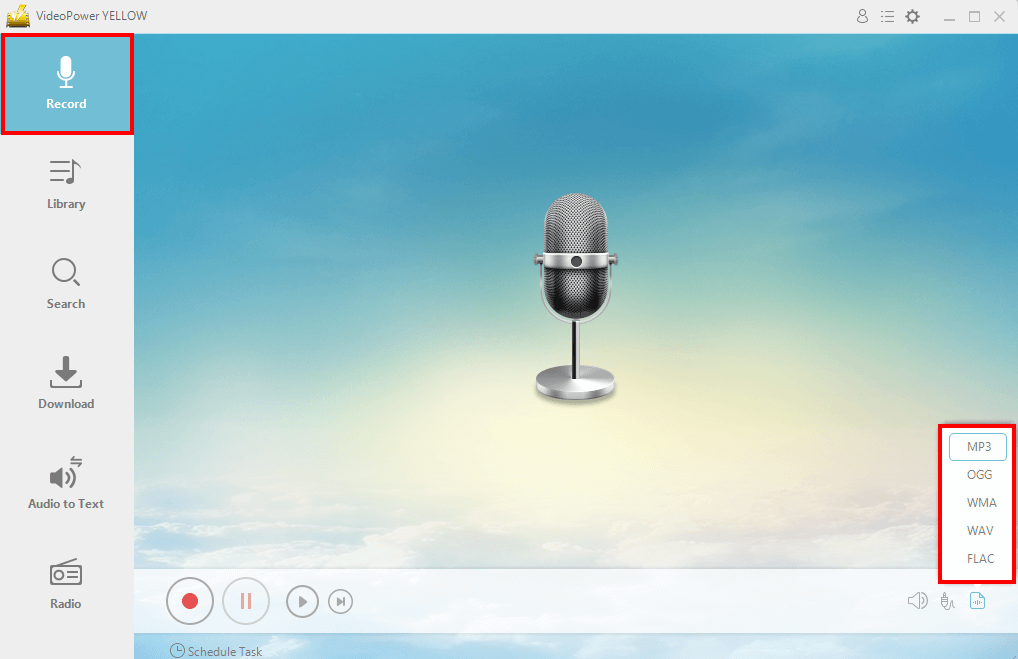 Step 2: Start Recording
Then initiate the recording by clicking the "Record" button on the "Record" menu screen. Then go to Pandora website and play your preferred music to have it recorded.
Return to the software to pause or stop the recording. Once the recording is over, kindly click the "Stop" button.
Step 3: Recording Complete
If you finish the recording, it will be kept in your "Library." Its ID3 tag identifier extracts data from the music recorded and renames the file to match the original music title. You may see options such as Play, Add to playlist, Search, Edit, Convert, Add to iTunes, and so on when you right-click the recorded file.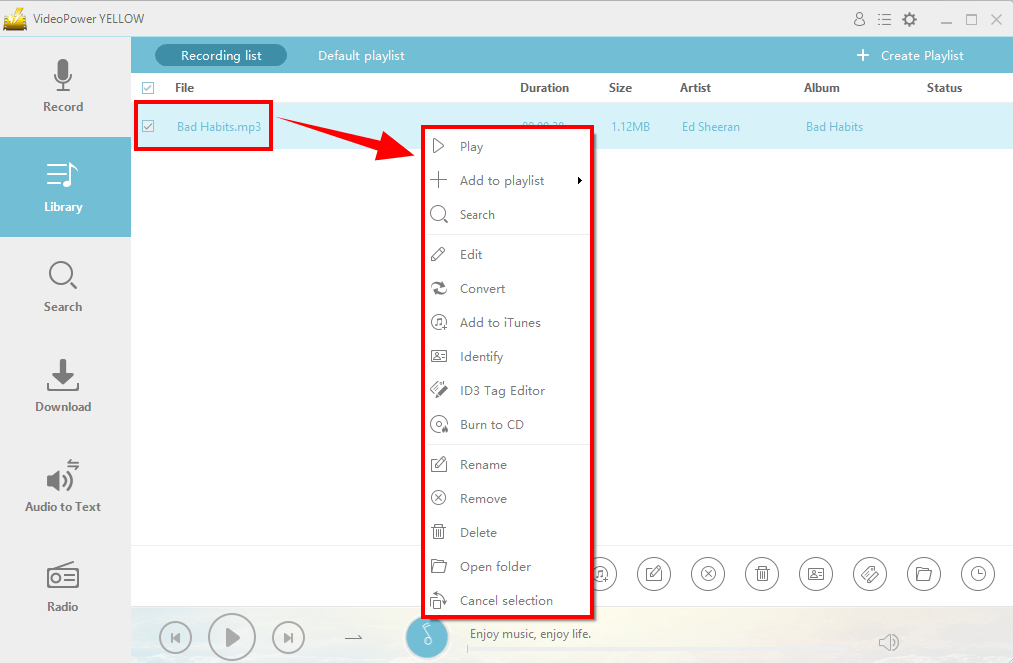 Conclusion
Pandora is a good site if you want to listen to the most popular songs. It provides high-quality audio which adds up for a great music streaming experience. It also has an application that is available for Android and iOS for easy access. However, since its content is restricted to other countries, users may opt to screen record the Pandora music while using a VPN and save it for offline playback. This is the easiest alternative solution to download Pandora music offline.
VideoPower YELLOW offers the best screen recorder tool which supports different output formats for your media player compatibility. Its ID3 tags identifier works impressively as it automatically tries to identify the music recorded, add tags, and automatically rename the recorded file according to its original track title. Moreover, it also offers many additional functionalities such as the capability to download music from many music streaming sites or use its other features such as the CD Burner, Editor, Converter, and more!
ZEUS series can do everything that VideoPower YELLOW can do and more, the interface is almost the same.
Check out NOW! Start easier with more affordable prices!